---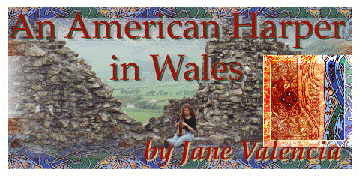 ---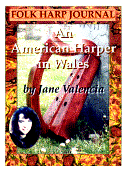 An American Harper in Wales
by Jane Valencia
originally published in the Folk Harp Journal
and The Fling
---
This page is designed as a graphics-dense, multi-media electronic scroll.
Please be patient as the many images unfold. A text-only version of this article appears at
http://www.eldalamberon.com/jane-textonly.html
---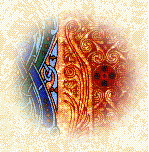 By the pleasant lake where the Sleepers lie ....
Yet singing the golden harp shall guide
To break their sleep and bid them ride
from The Grey King
fourth book in The Dark Is Rising sequence
by Susan Cooper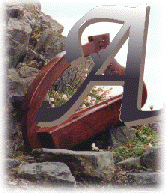 little over a decade ago I studied Early British history and Medieval Welsh language and literature at the University of Wales, Aberystwyth. A year after coming home, I took up the harp and the whole direction of my life changed. I returned to Wales in May of this year -- ten years practically to the day since I'd last visited. I was eager to renew my connection with Wales, and to experience this land and its rich past in a new way. In particular, I looked forward to coming full circle on a few things -- among them, bringing my harping, "bardic" self to this place where I once studied the poetry of the ancient bards.
My biggest dream for this trip was to play the harp at the Tal-y-Llyn. The Tal-y-Llyn--The Pleasant Lake, in English--stretches below the mountain Cader Idris (meaning "chair of Arthur"). My favorite books as a teenager -- and probably the books that have most influenced and shaped my life -- are a series of young adult fantasy books called THE DARK IS RISING, by Susan Cooper. These books are wonderful examples of contemporary myth, filled with Celtic and Anglo-Saxon folklore and compelling modern-day characters. The fourth book, THE GREY KING, is set in the area just north of Aberystwyth. In it, the last of the immortal Old Ones, young Will Stanton, seeks a harp of gold that will waken King Arthur's sleeping knights. He ranges through beautiful countryside, and ultimately plays the harp at Cader Idris, by the Tal-y-Llyn. Indeed, the Sleepers do awaken, and off they ride to protect Britain from forces of the Dark.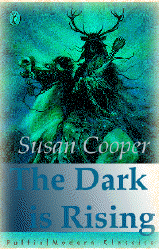 Susan Cooper's books had both led me to Wales (I had first traveled there to seek the places in her books) and sparked my fascination with the Celtic harp. So of course, now that I actually did play harp, I had to play it where Will had played his golden harp. Perhaps magic would awaken for me as well!
For now, it was a joy to be back in Aberystwyth. The day after arriving, I spent a lovely hour on its rocky beach. Behind us curved the Victorian promenade of this centuries-old town. The waves beat before us. My almost-three-year-old daughter Amri and I happily gathered stones and feathers, driftwood and shells, filling my jacket pockets and bookbag while rain fell upon us. My Welsh friend who works at the BBC in London, stood apart from us, miserably hunched in her black cashmere coat, not understanding our delight. I almost didn't care! The stones on this beach were wonderful--gray and flat, and some as long as my hand. The oblong ones were like small versions of the standing stones I'd discovered wandering the mid-Wales countryside a decade ago. Here they were, a beach full of them!
Amri took a fancy to a driftwood stick indented with little circles. With its curved "beak", it resembled an illuminated bird from The Book of Kells. The stick accompanied us on a walk in the hillside on the other side of the road from the University campus. We found a field of sheep (to Amri's delight), and ferns, tangles of trees, holly, rhodendrons in bloom, and blue bells, blue bells, blue bells.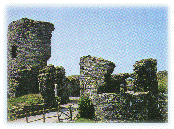 At the south end of town is a castle ruin--fun to play in, with doorways that open out to the entire coast of mid and north Wales. My first "harp thing" was to go crazy with my new camera, photographing the small wire-strung harp that Deb Knodel, my harp partner had bravely allowed me to carry overseas. In America we harpers (those of us who are fascinated by Celtic things anyway) have an almost desperate need at times to recreate or uncover a sense of the ancient and spirit-filled. Here in Britain, the sense of the ancient is practically omnipresent. Perching the harp against just about any natural or ancient monument backdrop seemed so archetypal, mythical, spiritual, beautiful. Technically speaking this harp, a Trinity College wire-strung Irish harp built by Jay Witcher, wasn't "authentic" to Wales. The early Welsh harps were lighly-built instruments strung with horsehair and, later, gut. Even so, in bringing a Celtic harp to Wales, I had a sense of returning to a source, of connecting with the deep roots of this country.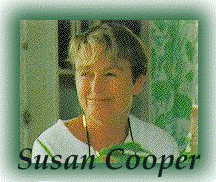 My Welsh friend didn't share my excitement with things ancient or harpish, or even with Wales' natural beauty. She lives in London and is quite happy to be in the midst of a city thriving in politics and modern-day national and international concerns. The one who shared my enthusiasm was Megan Tully. Megan is a former harp student of mine who was attending the University of Wales, Aberystwyth for a year. Talk about kindred spirits: Megan also shares my love of children's books. Like me, she had loved THE DARK IS RISING series and was eager to seek out places in the books.
Megan proved willing to accompany me on any of my wild treks. After photographing the harp at the castle, we took an unexpected detour into the countryside north of town (with Amri and harp in tow). The countryside was brilliant in color and vibrant with life. We passed sheep that had black knees, gorse blooming a sunbright yellow, and trees and hedges trilling with birdsong. I always find myself eager and excited when I step out into this countryside. No wonder the writers of the medieval Welsh tales (the Mabinogi, The Dream of Ronabwy, and others) focused so much on the bright color of things, and on evoking vivid, vibrant images -- color in Wales is so intense.

..they saw a woman riding a grey-white horse many hands high,
a woman wearing silk the colour of bright gold.
- from Pwyll, the first branch of the Mabinogion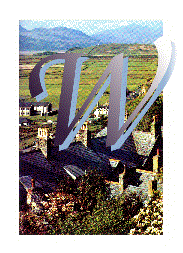 e viewed hills and valleys patterned with fields and farms. At the headland, we climbed into a field and overlooked the waves pounding on the rocks below. Some where a few miles to the north is a length of a wall-rock that juts into the sea. Tales say that it is a sea wall, part of Cantre'r Gwaelod -- the "Lowland Hundred". These were sixteen cities that are supposed to have sunk when the keeper of the floodgates became drunk during a banquet and left the sluices open during the night of a fierce storm. During low tide at Ynyslas, to the north, you can see the petrified stumps of a dozen or so 5,000 year old trees, said to have been part of the sunken settlements. It's also said that you can sometimes hear the music of the church bells ringing beneath the sea. "Clychau Aberdyfi"--"The Bells of Aberdyfi" is a well-known folk song about these bells, often played on the Welsh triple harp (the triple harp's same-tuned rows of outer strings allow for wonderful bell-like effects).
I rented a car for the weekend, so on a drizzly Saturday morning, we -- my husband Andy, Amri, Megan, Deb's harp, and I -- set out to hike around some of the sites in the Susan Cooper books (one of these places, Llyn Barfog, the Bearded Lake, was also the scene of her picture book THE SILVER COW, a retelling of a Welsh folktale. She included a harp in that story too). Unfortunately, Amri got carsick before we even crossed to the Dyfi (pronounced "Dovey") estuary. Andy volunteered to take her back to Aberystwyth via the train. I left them at the market town, Machynlleth, and Megan and I continued.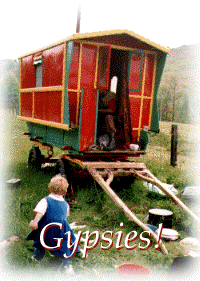 As soon as we crossed the Dyfi river I felt we'd entered that Otherworld country, brilliant colors, gorgeous greenery and all. We passed a brightly painted yellow and red cart along the side of the road, complete with a family and a sturdy dappled horse. Gypsies! Megan and I had a quick discussion, turned around, and drove back to talk with them. I couldn't think of anything intelligent to say, so was honest: we were just plain curious about them. The man was quite friendly and talkative, and showed us his horse ("he's young still, only six years old, and still likes to go fast."). The husband, wife, and daughter were from Cornwall and were travelling to Scotland. "We accept donations for photographs," the man said. He looked very much stereotypically Gypsy -- dark skin, long dark hair, missing a few teeth, tattoos on his arms, a bit grubby. I felt a bit foolish--a stereotypical tourist -- but snapped a bunch of pictures, and yes, handed them a five pound note.
Leaving the Gypsies, Megan and I continued onward, driving up a slope to a ridge that led to the Cwm Maethlon, "Happy Valley", the scene of a walk and much magic in SILVER ON THE TREE, the fifth book of THE DARK IS RISING series. We were approaching Susan Cooper country! Our first stop, though, would not be a place from her books, but a cairn circle marked on my Ordnance Survey map of the area.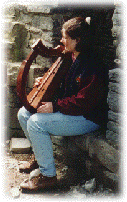 I love this about Britain: they have these great Ordnance Survey maps that detail all manner of landmarks --from houses, towns, roads, and train tracks to standing stones, cairns, and lengths of Roman road. And they have public footpaths. You can actually walk through farms (if you're mindful to close the gates behind you). As a student in Aberystwyth, I'd spent many a Saturday trekking through the Welsh countryside seeking standing stones I'd found marked on my Ordnance Survey maps. Usually in remote valleys tucked in the hills, they were always worth discovering. Our cairn circle proved no different.
The way to the circle was difficult to locate. The map showed a public footpath, but though we located the part that led from the south side of the road, we found no sign marking the north side. Further examination of the map seemed to indicate a farmhouse from which the path squiggled up a ridge. We located the farmhouse, and found not a path but a dirt road. With a frenzy of barking at our approach and a farmhouse close to the road--clearly private property--my boldness failed me. We knocked at the door, asked if the circle lay ahead, apologized for bothering them. The woman at the door was very kind. "Go past two gates," she said, with smile. Two strangers trooping across her land was obviously not a problem. My American self was amazed.
Up the road we hiked, passing some fabulous rock formations. Again and again we checked the map, and at a certain point I realized that I wasn't going to trek back to get the harp out of the car and bring it the circle. Never mind. Lovely views of secluded valleys dotted with sheep opened up to us, and we passed crags of jumbled stone. I finally spotted the circle, a series of slightly-taller than knee-high stones. For a moment we were doubtful--the stones were so small, and scarcely distinguishable from the surrounding rocks. As we reached the stones, our uncertainty vanished. The stones of the circle were rough and gray, but at the center lay a flat end of beautiful white quartz.

The place was utterly silent. Lying down near the center stone I listened, eyes closed, to that silence and stillness. Then I heard a chorus of birdsong, and the rushing of the wind. I could have listened to that music all day and into the night. I wished I could sleep there, under the stars! Still, there's a folk-belief concerning those who spend the night atop nearby Cader Idris: either you wake up a poet, or you wake up mad. Would that happen here too, and if so, what would be my fate? I fancied that it might be the former, but who knew what might really happen. One should not regard these ancient places lightly!
Two chips of the white quartz lay beside the stone. A third piece lay wedged in an all-too-modern iron hook. My hand hovered over the loose stones, wanting to take one home. No. Those bits of stone belonged here, in this corner of Wales. I left them near its mother stone. The metal hook in the circle was another matter. I couldn't stand to see it, lying there as garbage. I finally picked it up, intending to leave it at the road. On the way, I fiddled with the stone wedged in the metal. The chip loosened and fell into my hand, like a gift.
Even so, I felt a bit nervous when I slipped the stone into my pocket (half-expecting the red-eared white hounds of Arawn, King of Annwfyn, to come hurtling up the hill to tear me to pieces). When the hill remaining quiet and peaceful I silently vowed to return the stone to the circle or tocast it into nearby Llyn Barfog, if it ever seemed that it must come back. Since then, the stone has been in my keeping. (And as I hold it here in California, I hear that wind and silence and birdsong all over again. The stone in my hand has the feel of Wales!)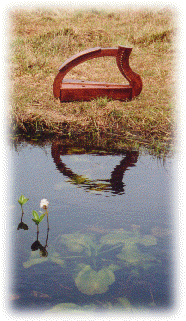 On to Llyn Barfog, the Bearded Lake, so named for the reeds that ring the shore and the water-lilies that comb its waters. The tale goes that the Tylwyth Teg, the Fair Folk, granted a farmer a white cow. The cow gave rich plentiful milk, and bore many white calves, all of whom grew to offer much. But the farmer became greedy. When he put a knife to the first cow's throat, intending to kill it for meat, the Fair folk called the white cattle back to the lake. Each cow turned into a water-lily, filling the lake with water-lilies, and the farmer was left with nothing. In Susan Cooper's picture book, THE SILVER COW, the music of the farmer's son, a harper, inspired the Tylwyth Teg to offer the cow as a gift.
SILVER ON THE TREE focused on another legend having to do with Llyn Barfog--that having to do with a monster that lived in the lake, an "avanc", that King Arthur vanquished. We chose to think about the cows rather than the avanc!
The harp joined us this time. Megan and I chose to follow a path that approached the lake from the east side, rather than the west which the general public would take. (That path had a car park, so we definitly wanted to avoid something so touristy). We found, however, that though the path existed on the map, it didn't really exist in life. We crossed a field and a couple of fences, and followed sheep trails and the contours on the map. Both led in meandering directions and across spongy boggy terrain. Shoulders aching from harp-schlepping, and shoes soggy, we reached the lake. But a gem of a lake it was. Small and quiet, and yes -- thick with water-lilies!
Atop a ridge overlooking the lake perched a beehive-stacking of stones. A cairn? Some marker from recent centuries? My map offered no clue. Megan and I climbed to the top of the ridge. With such a fantastic view of the lake, we had to play the harp (Welsh and Irish tunes came of their own accord, as well as improvisation. Not a tune from any other tradition came to my fingers!). We enjoyed the quiet beauty of the place, explored the ruins of a "hafod"-- a summer hut -- down below. Then to the lake.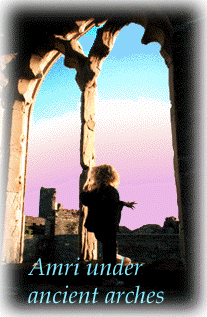 The water of Llyn Barfog was surprisingly clear. You could see the lilies both above and underneath the water. And yes, in a way, the lilies did resemble the heads of white cows. What else lies in this lake? Lakes were sacred to the ancient Celts, and treasure had been found in the Tal-y-Llyn not far from here. It had been a practice to cast beautiful things into a lake when a chieftain or other person of high rank died. The Tal-y-Llyn seemed grand enough to receive such things. But this little lake whispered with another kind of language, one that spoke of spirits--of air and of water.
Of course we visited Carn March Arthur--the spot where Arthur's horse supposedly leaped across the valley, leaving a hoofprint in a stone. When I posed the harp against the stone marker (an irrisistable photo opportunity) the harp drew little attention from the passersby--mums with young children, an older couple out for a Saturday ramble.
Leaving Llyn Barfog (after a sloshy, soggy trek back, and some lunch by a stream, amidst sheep) we stopped at St. Cadfan's Church in Tywyn. St.Cadfan supposedly came by sea in the 6th century, accompanied by twelve monks. They settled by a holy well near the site of the current church, and established their mission. The School or "Clas" was part of the Celtic church which took root in Britain during the Roman occupation, and continued to spread after the Romans withdrew.
I had to visit the five-foot-high Cadfan stone. This long gray stone with its two memorial inscriptions dating back to 650 AD is the earliest example of written Welsh in existence. Within two hundred and fifty years after of the departure of the Romans, the leading families in Wales were using Welsh--a language descended from the Brythonic or British Celtic language of previous centuries: Welsh, rather than Latin, for their inscriptions. According to Tony Conran in his introduction to his book WELSH VERSE, the Welsh of the sixth century had undergone cultural trauma. The Romans had withdrawn, tribalism had reemerged, the Welsh were losing their lands to invaders, and suffered constant war. "A people does not change its language for nothing," wrote Conran, "... to let the old formalities of speech lapse into linguistic chaos--this is tantamount to cultural amnesia." Conran noted that the poetry of the sixth century bards, Taliesin and Aneirin, completely concerns their present and immediate past, and with keeping their people fighting despite overwhelming odds. With one exception the earliest Welsh poetry that survives is heroic--celebrating the bravery and generosity of chieftains, and mourning and glorifying the death of warriors and chieftains.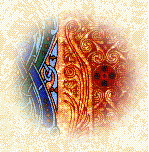 Men went to Gododdin, laughing fierce ones bitter in battle with spears in a group
A short year in peace, they are now at peace Son of Bodgad wrought vengeance,
thework of his hand ....
- from The Gododdin, by Aneirin 6th century
Beyond Tywyn and east lies the Dysynni Valley, narrow, green and lovely. Craig-yr-Aderyn--"Bird Rock" presides at the entrance, a guardian. This massive rock lies four miles inland, yet is the nesting place for cormorants, a seabird. The sea had receded over the centuries. In THE GREY KING, it was while within Bird Rock (via magic) that Will Stanton and the Welsh boy, Bran, answered three ancient riddles and claimed the golden harp for their quest. And so long as Bran played the golden harp, he and Will were protected from the forces of the Dark as they left Bird Rock.
Down narrow country roads to a small hill covered with twisted trees. At the top lay the castle ruin of Castell-y-Bere--a fortress built by Llewelyn ap Iorwerth (Llewellyn the Great in 1221 to protect the mountain passes from the English. A mere 60 years later, the fortress fell. With the deaths of Llewelyn the Great and his successor, Llewelyn the Last, the virtual federation of independent Wales that they had created crumbled under the onslaught of the army of King Edward I of England. Wales was conquered. To clinch the victory Edward I had a series of fortresses built, of which the castle at Aberystwyth was one.

Perhaps because it represents the spirit of what might have been--a dream for a people--Castell-y-Bere has a presence of light that the Aberystwyth castle lacks. A doorway opens to a view of the entire valley, including the back of Bird Rock. Three stairways meet at the very top and jump off into the sky. This forgotten castle welcomed our harp music and explorations. It was a place I hadn't realized I'd love so much.
Daylight receded. We hurried on to Tal-y-Llyn, determined to reach this place, and play harp by its shore. Ten years before I had hiked to this lake from the northeast side and found it to be magnificent. Rust-colored and purple hillsides, and a stunning stretch of blue lake. Cader Idris brooded beside it, the sense of seclusion immense. What a disappointment then to find the lake peopled with fishermen in motor boats! We found no place to park, no place to hike away (plucking harpstrings next to the car just for the sake of saying that we'd played at the Tal-y-Llyn seemed a crass thought). After a day of magic and solitude the feel here was entirely wrong. If the Sleepers lay in the hills, they would have to wait for someone else's harping to awaken them!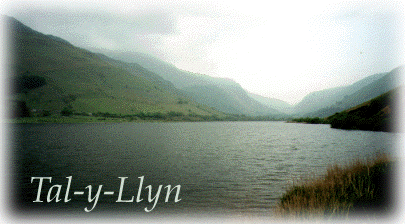 Surprisingly, I realized that I didn't mind. Hadn't this entire day been one of awakening, one of magic? I had played harp in places that had resonated with layers of tales, layers of myth. And whereas ten years before I had explored Wales alone, I now had a wealth of shared experiences--with Megan, and also, on other days, with my family--Andy and Amri.
And now, back here in California, my bookshelves bow under the weight of the books I shipped home, and my desk is piled with photos. My tape recorder repeats the lyrics of some Welsh folk songs that a native speaker recited for me and which I hope to sing someday. As I survey a semi-circle of flat stones, a bird stick, feathers, and a piece of white quartz, I know that I have what I need to nurture my soul long into the future--that part of myself that is interwoven with the music, poetry, early history, and myth of Wales.
That part that is a harper.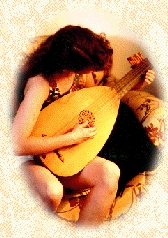 EPILOGUE
On June 28, Susan Cooper signed books at Hicklebee's childrens bookstore in San Jose, CA. For twenty years I'd loved her books and been inspired by them. What with my recent trip to Wales it seemed only fitting that I offer (beg) to play my harp at her signing.
And a pleasure it was to play for it!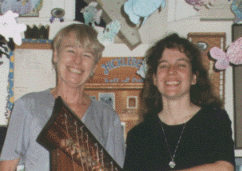 Susan Cooper was gracious, good-natured, and a comfortable person to be around. She and the others in the store all seemed to enjoy the music. Megan Tully, back now from Wales, showed me her fabulous photos of our excursion. Two harpers, Karla and Sarah Burns, also came--and allowed me to coax them into playing and singing also. I'll never forget how intently Susan watched and listened as Sarah, age 12, played and sang her enchanting composition, "I am a harper", or how fun it was when Karla Burns (Sarah's mom) sang "Aderyn du a'i blufyn sidan" ("Blackbird of Silken Wings") with me--in Welsh! It was a dream come true for my teenage self--now "grown up"--to meet her favorite author. And it was a pleasure to have the music and companionship of my fellow harpers and friends as part of it!
---

"An American Harper in Wales" Copyright © 1997 Jane Valencia
Photos mostly by Jane Valencia and Megan Tully
---
Jane Valencia is co-editor with Flippy White of the web magazine The Young Harpers Alamanac at http://baruk.zendo.com/almanac/welcome.html . Please stop in and enjoy the view.
---

Visit Mike Nielsen's Harp Concert Calendar at http://www.dol.net/~mike.nielsen/eventshtm
---

Page Design and Original Graphic Art Copyright © 1997-1998 by Adam Victor Christensen