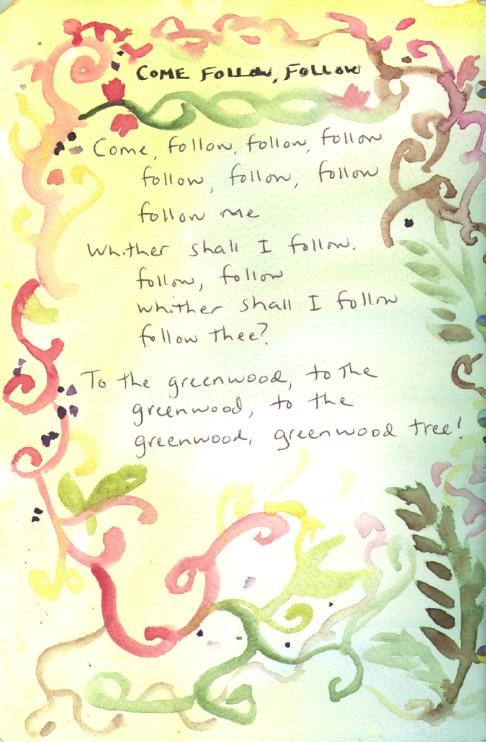 Song Community
Weaving community with Song is something we humans have practiced since time before time. The many voices that come together in song become one Voice. For a time we know the joy and direction of offering and purpose, harmony, interweaving melodic lines, or just the strength of a melody offered in unison. In troubled times, when we have no idea what to do, we can offer a song!

Here in Forest Halls we sing just for fun, and we also experiment with using song consciously. For us, a song, melody, or a musical piece is can be regarded as an essence of certain qualities we're hoping to invoke, or a homeopathic remedy, or even its own little being - carrying a memory of all the people who have ever sung that music with heart. We sing in our circles, to offer gratitude, in call and response with the natural world and each other, to remember, to condole, to celebrate - and just to express the magic or emotion of the moment.

Please return to this page soon for distance mentoring opportunities, resources, and ideas for weaving your own song community - for a single coming together, for creating a guild of song weavers, or for growing your own 'folk choir'.
Past Offerings
-
The Folk Choir
The Folk Choir delights in music inspired by nature, poetry, community, our imaginations, and more, and draws from a variety of world, folk, and our shared heritage. Harmony singing, part-songs, chant, improvisation, sound play, rhythm, creating our own arrangements and compositions, and listening to and singing with the natural world form the threads of our musical adventuring. Performances center on creating music for and with community in celebration of the rhythms of the natural world and of life passages. Because of the 'nature' of our music-making, part if not all (in good weather) of our Folk Choir sessions takes place in forest or field.
---
Community Singing
Every week Jane leads a half-hour Community Singing session at the Farmers Market from 10-10:30am. For all ages the singing focuses on easy-to-learn (mostly) songs, or songs many of us know that celebrate the rhythms of the agricultural year, nature, community, and heritage. Instrumentalists who enjoy accompanying are welcome to join in as well (Jane brings her harp!).

Please help weave a Song Community!

---
Return to home page Page updated 11/15/08