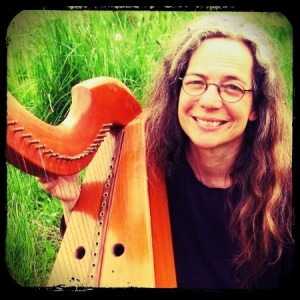 Hello!  I'm Jane Valencia, a bardic harper, magical naturalist, and author/illustrator. 
A bardic harper is a performer who loves to share tales, poetry, music, wise ideas, and anything else they think of that might bring the magic of the world alive for the listeners, by way of the harp.  A magical naturalist is someone who discovers the wondrous that exists all around us — in the natural world and in ourselves — and strives to learn its secrets.
I have been helping bring magic into everyday life since 1988–when I began performing and teaching harp. In time I became a 21st century bard, weaving story, lore, and poetry into my harp performances to nourish a love of the magic all around us.  You can read more about my musical background in my bio . Through the years I have co-created learning experiences and festivals for children, families, and creative adventurers and spiritual seekers often sourced from the lore, music, and wisdom encoded in the turning of the year.
In 2001 I discovered the deep nature connection work of naturalist and cultural repair visionary, Jon Young. Since then I've immersed myself in nature connection practices, and cross-cultural methods of renewing and strengthening community that go back to the roots of our human beginnings. I have applied these methods and perceptions to every aspect of my life and work, as they are true magic indeed, having everything to do with tending joyful connection in families and with community, the natural world, and oneself. In my bardic performances, magical naturalist adventures, or various writings and musings, I source again and again from this legacy.
When I was a child I wanted nothing more than to live a life of real magic. But, truly, our life is full of magic that is quite real indeed!  Storytelling, noticing where healthy culture is alive and well in one's own family life and in the surrounding community, making music together, tracking what makes one feel fulfilled and alive, engaging in imaginative play, sharing nature adventure, making "potions" with herbs, and so much more are all opportunities for us to experience the wonder that always surrounds us.
FoxTales is a blog written by me, but you may also hear from foxes, kids, chickens, teapots, and other unusual and mythic creatures that appear in books I've written or in stories I tell.  We'll give you tips about how you and your loved ones may perceive your world in new ways, and how to feed the fire that is the extraordinary in your daily life. If you're interested in playing the harp, telling stories, and offering other creative magic (or maybe you offer this kind of enchantment already), you'll find ideas that will nourish you and further root your art as well.
Please feel free to contact me with any questions or comments, and to let me know how I can be of service to you.
See you in Forest Halls!