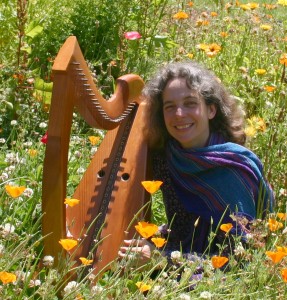 Hello!  I'm Jane Valencia, a 21st century bard, harper, and writer. A bard, by the way, is a performer who loves to share tales, poetry, music, wise ideas, and anything else they think of that might bring the magic of the world alive for the listeners.  I just love to do that–whether I'm performing or just talking with you in the kitchen or park, or any old place!
When I was a kid I wanted nothing more than to make magic real.  Almost 40 years later I still want to make magic real!  And that's why I do what I do–which is a lot of different things!  Writing, storytelling, creating art, playing with herbs and making medicine from them, learning what songs the birds sing, and looking for the stories told in animal tracks — everything I do and love reveals to me the magic that's around us all the time.
I'm not talking about an "oh, isn't that lovely" kind of magic.  I'm talking about  real magic.   The magic that makes you jerk back on your heels and shout "Wow!!!" and you just can't believe what's before you, around you, and includes you.  I'm sure you know what I mean, and I'd love to hear about your experiences with real magic. (you can write about them in the comments box below, if you'd like).
FoxTales is a blog written by me, but  you'll also hear from foxes, girls, chickens, teapots, and other extraordinary magical creatures that appear in a particular  book that I'm writing.  That book is called Because Of The Red Fox. You'll hear about my writing process too. My hope is that you'll be inspired to create your own stories, if you don't already!
I  hope you enjoy the stories and fun in FoxTales!