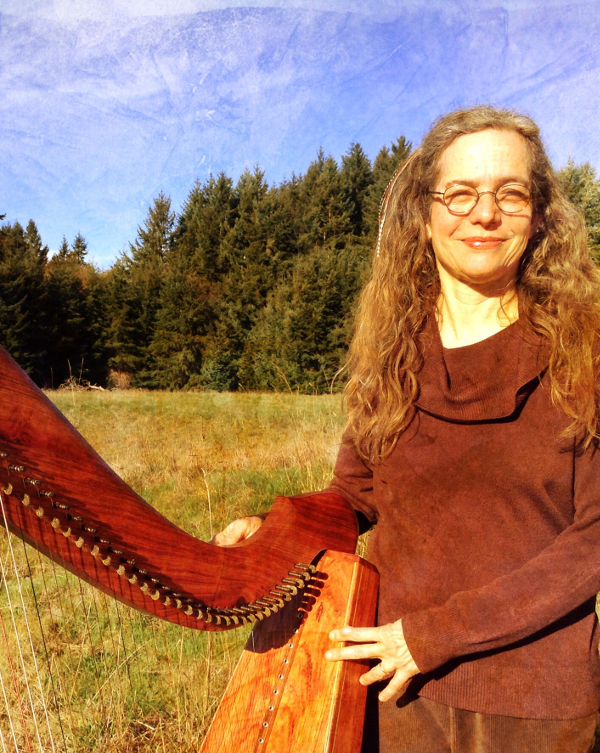 Jane Valencia is a bardic harper and storyteller, magical naturalist, and author and illustrator who enchants folk of all ages with her myth- and nature-infused  tales and artwork, wise village ways, and beautiful music. She has musically adventured with the harp since 1987, performing and recording with the Pacific Coast duo Spookytree and other groups in addition to her solo career.
With a background in classical and early music, Jane took up harp after studying medieval Welsh bardic poetry in Wales. With her harp, Jane has found that she can weave everything she loves into bardic harp performance, including folklore, song, poetry, art, and the beauty and wonder of nature. She has a solo CD RoseGarden. She is also author of the children's fantasy novel, Because of the Red Fox, a magical nature tale threaded much like her bardic performances with folklore, mischief, animal magic, village wise ways, natural mystery, and even poetry and songs.
Whether in concert, or in workshops, or even out in the forest, Jane's improvisational style is imaginative, light-hearted and responsive, voicing the magical inner nature that is threaded into each one of us.
Visit FoxTales for Jane's magical stories and fun for kids, families, and creative adventurers.
Musical Background
Musically, Jane's first love was oboe. She performed in orchestras and bands for a number of years. In college, she became passionate about early music. She sang with a collegium musicum and studied medieval and Renaissance music.
Then, inspired by several children's fantasy books that featured Celtic harps, and after spending a half year in Wales studying medieval Welsh bardic poetry, Jane bought her first harp. A whole new realm opened for her of music creation – that of arranging one's own music, composing, and the magic of unearthing the music in the moment: improvisation. She and her harp have never turned back!
From there Jane has found that with her harp she can weave everything she loves into a musical adventure. That adventure with story, folklore, song, art and nature's magic finds expression here in Forest Halls.
 Magical Nature And Art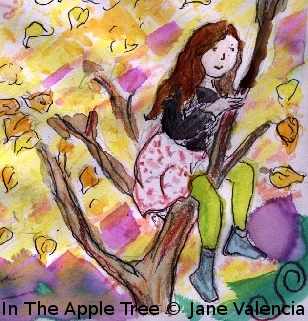 Outside of  Forest Halls, Jane serves as a nature instructor with the Vashon Wilderness Program, within which she tells plenty of stories, sings many songs,  discovers first hand the lore and wisdom of the forest, and even plays the harp from time to time. She also shares plant wisdom and deep nature connection practices with women in  Women's Nature Ways retreats.
As an artist Jane's whimsical illustrations and comics express the joy and wonder we feel when know ourselves to be at home in the natural world. Her illustrations have been featured in several gallery showings, and she has had two solo shows: Into Forest Halls: Kid-Inspired Art From The Heart Of Our Nature in November 2014 and Winter Tales  in January 2015.
A lover of the plant realm and an herbalist, Jane is author and illustrator of a Paloma and Wings: a kids herbal comic, which ran for two years in Plant Healer Magazine.
Community Magic & Musical Directorship
Drawing from her own in-depth study and practice with Celtic wisdom and spirituality, Jane's current community project is involvement in the Explore Celtic Spirituality series. All the threads Jane loves are drawn together in this all-age, open spirituality community offering — intergenerational sharing, ceremony, storytelling, prayer, music, song, poetry, movement, celebrating nature and celebrating in nature, nature-rooted crafts and activities, ancestral wisdom, and more.
Jane has offered musical direction and music arranging for community ensembles of all ability levels for over 25 years. She created ensemble arrangements and led the Harpers Hall ensemble in the society's early years. She served for a number of years as co-director for the Vashon Threshold Choir, a group of singers who offer music at the bedside to bring ease and comfort to those at the thresholds of living and dying.
Jane's past projects included directing the Forest Halls Folk Choir, leading weekly Community Singing at the local Farmers Market, and biweekly Singing Circles in forest and field. She also served as music director for Blood, a dance memoir created for ensemble collaboration and improvisation.
"Jane Valencia's artistry was essential to manifesting my vision for BLOOD. As Musical Director, she "mapped" and scored the 90-minute dance/movement work, creating a rich textural musical landscape that explored themes as diverse as vitality, grief, longing, birth/ rebirth, and the continuum of connection/disconnection in human relationship…"
Stacey Hinden, Artistic Director, BLOOD