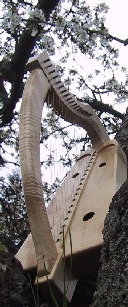 Once upon a time, two harpers led an audience into an enchanted forest of music, myth, and art. Twenty years later Forest Halls thrives as an imaginative realm of  adventure, ancient wisdom, and nature's secrets.
Forest Halls offers bardic harp and storytelling, books, music, comics, and other timeless nature-rooted magic to help families and folk to enjoy kindness, curiosity, and the sweet wildness and wonder that is alive in our world.
We celebrate the fun, beauty, and joy woven in our world to nourish families, community, the child in all of us, the future generations, and our earth island home.
Thank you for joining us in the greenwood!
"We have entered a deep, magical forest.  Great ancient trees surround us …  The paths criss-cross between all places and all times.  We have no idea which one we should follow.  We turn to the Keeper of these Forest Halls — the Green Man.  Perhaps he'll let us know which one we should take.
In a language that whispers like leaves the Green Man lets us know that any path we choose will lead to magic …"
~ from FOREST – bardic performance by Spookytree (Debra Knodel & Jane Valencia)
Find out about Spookytree Celtic harp duo here