In which Santa (Samantha) Wakefield-Browne, one of the supporting characters in Because Of The Red Fox gets rather excited …
Santa, here. You may or may not know that my family (that includes my cousin Shell and her family) live in the Hundred Acre Wood Farm Community — basically a rural neighborhood of a number of households that works together to grow food for ourselves.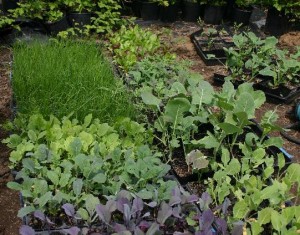 Some of us raise chickens for eggs and meat, one household raises cows. Some folks help with growing vegetables or making cheese, or making other kinds of food from things our community grows or provides. Some folks help with providing wood for our winter fires. It's all a kind of cooperative, and it works pretty well for all of us.
Well, my dad (he's a co-owner of a chicken shop in Seattle, as well as owner of a feed and supply store here on Yonder Island) — my dad has heard about something new. They're called "agrihoods".
Basically, they're residential developments that have a working organic farm at the heart of 'em instead of a golf course or a park. And families are excited to beautiful farms in their neighborhood and the opportunity to get fresh fruit and veggies in weekly CSA (Community Supported Agriculture) shares, and at farm stands.
It's certainly very fun when folks pick up  their farmshares at the farmstand here. Everyone catches up on all the news of the neighborhood, and us kids get busy in some huge games of Hide and Seek or Fire In The Forest. So I think it's very cool that this kind of thing is catching on around the country. It's the best thing I've heard about since Backyard Chickens became the rage.
Okay, this is Santa, signing off. Check out an Agrihood near you!
Read an article about Agrihoods here.