In this episode we enjoy the golden light of autumn as we sit with our "Creative Fire." Here we'll find tales, tunes, and songs filled with the fire of the poet's initiation, the love of the land, the Otherworld, and flat out musical fun.
02:12 Niamh Ni Charra – Cailleach An Airgid
05:00 Altan – Comb Your Hair and Curl It
08:42 Kathryn Tickell – Lads of Alnwick / Old as the Hills
15:19 Martin Hayes & Dennis Cahill – The Mountain Lark / Tom Doherty's Reel
18:51 Mary Black – Song for Ireland
25:04 Pádraigín Ní Uallacháin – The Incantation of Amergin
30:36 Jami Sieber – A World Behind the World
40:13 Priscilla Hernandez – Leaves Never Settle in the Wind
42:35 Cernunnos Rising – Heartbeat of Harvest
44:52 Past Tense – Soundscape of Relaxing Nature Sounds
45:44 Knodel and Valencia – Willafjord
49:00 Silly Wizard – Queen of Argyll
52:23 Sharlene Wallace and Kim Robertson – Comb Your Hair
57:22 The Harp Twins – White Wedding
Listen to the latest episode of Forest Halls Celtic on demand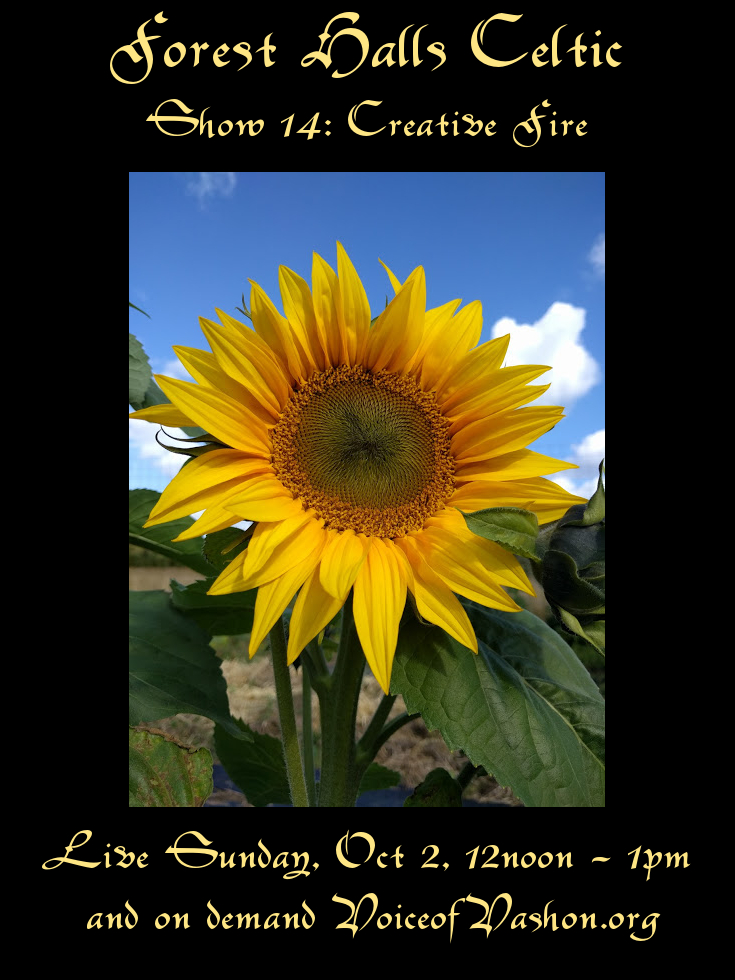 Format: Track Title – artist (CD Title)
"Cailleach An Airgid" – Niamh Ní Charra (Súgach Sámh / Happy Out)
Translated as "The Hag with the Money," this is a traditional sean-nós song from Connemara. Catch the video on Niamh's site or on Youtube. A fun twist to what could be a harsh song about a young lad after an old woman's money.
Chorus
She is your granny, she is your granny
She's your granny, the hag with the money …
Do you reckon he'd marry, do you reckon he'd marry
Do you reckon he'd marry the hag with the money?
I know he'll not marry, I know he'll not marry
'Cause he's too young and he'll squander the money

Chorus

We'll soon have a wedding, we'll soon have a wedding
We'll soon have a wedding, by two in the village
We'll soon have a wedding, we'll soon have a wedding
Between Sean Seamais Mhoir and Maire Ni Chathasaigh
"Comb Your Hair And Curl It / Gweebarra Bridge" – Altan (25th Anniversary Celebration)
Irish folk group Altan plays a slip jig followed by a reel. Come Your Hair and Curl it? In Celtic music you can create a tune around just about anything!
 "Lads of Alnwick/Old as the Hills" – Kathryn Tickell 
I love the unison at the beginning of the set of Kathryn on the northumbrian pipes and Julian Sutton on the melodian, perfectly in tune.
"The Mountain Lark/Tom Doherty's Reel" – Martin Hayes & Dennis Cahill (NPR Music Tiny Desk Concert)
As the set progresses, maybe you can feel how these two musicians drop deeper and deeper into the music and into the sensory world it's creating. It's a place where, as a musician, where your jaw becomes slack and it's just you and the music and your instrument, and the sound all around. You might even find yourself drooling, you're so into it. Martin and Dennis don't do that – drool that is, but in the video you get that sense of going deeper and deeper into the music – at least, that's how I feel listening to it.
"Song for Ireland" – Mary Black (Song for Ireland)
For the last quarter-century, singer Mary Black has been a dominant presence in Irish music, both at home and abroad. She has shared stages, tv shows and recording studios with some of the most revered performers of her time. She has also played a frontline role in bringing Irish music, past and present, to an increasingly appreciative and ever-growing global audience. The San Francisco Chronicle has described her as "One of the best interpretative singers around". To me, her "Song for Ireland" captures the creative fire that one's place – the very land itself – can ignite in our hearts.
The phrase "the fire in the head" refers to a visionary experience or poetic inspiration of a consuming nature. It appeared in "The song of Amergin", a mystical poem spoken by Amairgen Glanglun, a bard from Irish legend, as he first stepped foot upon the land of Ireland, on the shores of Kenmare Bay. We'll hear now a setting of this poem to music by Pádraigín Ní Uallacháin, including the poem spoken in Irish Gaelic.
"The Incantation of Amergin (Am Gaeth I M-Muir)" – Pádraigín Ní Uallacháin (Song of the Scribe)
Pádraigín has been recreating the ancient tradition of sung poetry by composing airs in the traditional style for early Irish poetry, medieval Irish poetry, Bardic poetry, traditional songs and new songs in Irish and poetry in Irish and English including works by leading Irish contemporary poets such as Ciarán Carson, Seamus Heaney, Nuala Ní Dhomhnaill, Biddy Jenkinson, Michael Hartnett, and also earlier works by W. B Yeats, Olav Hauge, Fearghal Óg Mac an Bháird, Fear Flátha Ó Gnímh, Eoghan Rua Mac an Bháird among others.
She is accompanied here by Helen Davies on harp.
"A World Behind the World" – Jami Sieber (Timeless)
"The Song of the Wandering Aengus" Poem by William Butler Yeats,
"The Tale of Taliesin" Text and retelling by Jen Delyth (Celtic Folk Soul: Art, Myth and Symbol)
Against the backdrop of Jami Sieber's atmospheric composition for cello and voice, we take a deep dive into visionary and poetic fire with W. B. Yeat's quintessential poem as well as by way of Jen Delyth's commentary and tale of the transformation of the boy Gwion Bach into the legendary Welsh bard, Taliesin who lived in the sixth century.
Electric cellist, vocalist, and composer, Jami Sieber will be performing
Friday, Oct 14, 7:30 PM
Vashon High School Theater
Tickets are available at Vashon Intuitive Arts, Vashon Bookshop; online at Brown Paper Tickets
Sponsored by Woman's Way Red Lodge.
"Leaves Never Settle in the Wind" – Priscilla Hernandez (Incantations)
A lovely song for Autumn.
"Heartbeat of Harvest"- Cernunnos Rising (Wild Soul)
… and another song honoring the Harvest.
"Willafjord" – Knodel & Valencia (Forest)
When Deb and I work up music together, we pull from any manner of inspirations. With this Shetland tune, were reminded of Harry Bellafonte's "Jamaica Farewell." That piece inspired our choices of a calypso style rhythms, and a "steel drum" sound and some strumming on our harps. We had the great pleasure of performing a trio version of this piece with Kim Robertson at the International Society of Folk Harpers & Craftsmen Conference held in Vermont in 1994. Kim is an absolutely inspiring, fun, and generous harper, and I count the experience of our working up "Willafjord" with her and us performing it as among the "highs" of my harp career. That conference in Vermont was memorable in other ways: At that time, I was 8 1/2 months pregnant with my first child!
Deb Knodel, by the way, will be performing a house concert on Saturday, Oct. 15. at 6:30pm. If you're in the Bay Area, do think about attending! Deb is a harper who possesses creative fire indeed. She has been working on some pretty blazing arrangements these past few years, and she is a just plain fun and friendly individual. You will definitely enjoy yourself if you attend. Email me if you want more information: fhceltic 'at' gmail.com
"Queen of Argyll" – Silly Wizard (Kiss the Tears Away)
One of my favorite songs from renowned Scottish band Silly Wizard
"Comb Your Hair" – Sharlene Wallace and Kim Robertson (Q & A)
Another version of "Comb Your Hair" by two harpers who know how to create and play some intricate and awesome arrangements. I'm always inspired by Kim, and Sharlene is fabulous too!
"Lochaber No More" – Spookytree
Thank you to you all for joining me in Forest Halls. A special thank you to my husband Andy Valencia for providing behind the scenes technical support. Our 29th anniversary is coming up,  and in honor of that I finish the show with a cover of a song we danced to at our wedding. This piece is decidedly not Celtic. It's performed on pedal harp and electric harp by a pair of identical twins who have something like 75 videos of their covers of famous pieces, in which they dress alike (different costumes each time) and play with a flourish. This is Billy Idol's "White Wedding", arranged and performed by the Harp Twins, Camille and Kennerly Kitt.
"White Wedding" (Billy Idol) – The Harp Twins – Camille and Kennerly
Fun harp stuff here, with pedal effects from the electric harp and soundboard drumming on the pedal harp.