Enjoy some musical fun and magic, as we celebrate the Celtic festival of Samhain (pronounced "SOW-wen"). If you love the Celtic harp, you'll be pleased to hear a number of creative and lively harp pieces in today's show.
12:01: Loreena McKennitt – Samain Night
12:05: Damh the Bard – Samhain Eve
12:15: Margot Krimmel and Laura Melling – Once Upon A Time
12:17: Spookytree – Abbots Bromley Horn Dance
12:20: Sileas – The Dusty Windowsill
12:28: Anne Roos – A Bruxa (The Witch)
12:33: Ruaidhri – Castlerigg
12:33: Two tales from Folk Tales from Wales
12:39: Solas – Am I Born to Die     **added to the 2019 edition of this show**
12:42: Cynthia Artish – Angry Birdz
12:45: Kristen Lawrence – Souling Song (Samhain Version)
12:54: Caravan of Thieves – Raise the Dead
Listen to the latest show on demand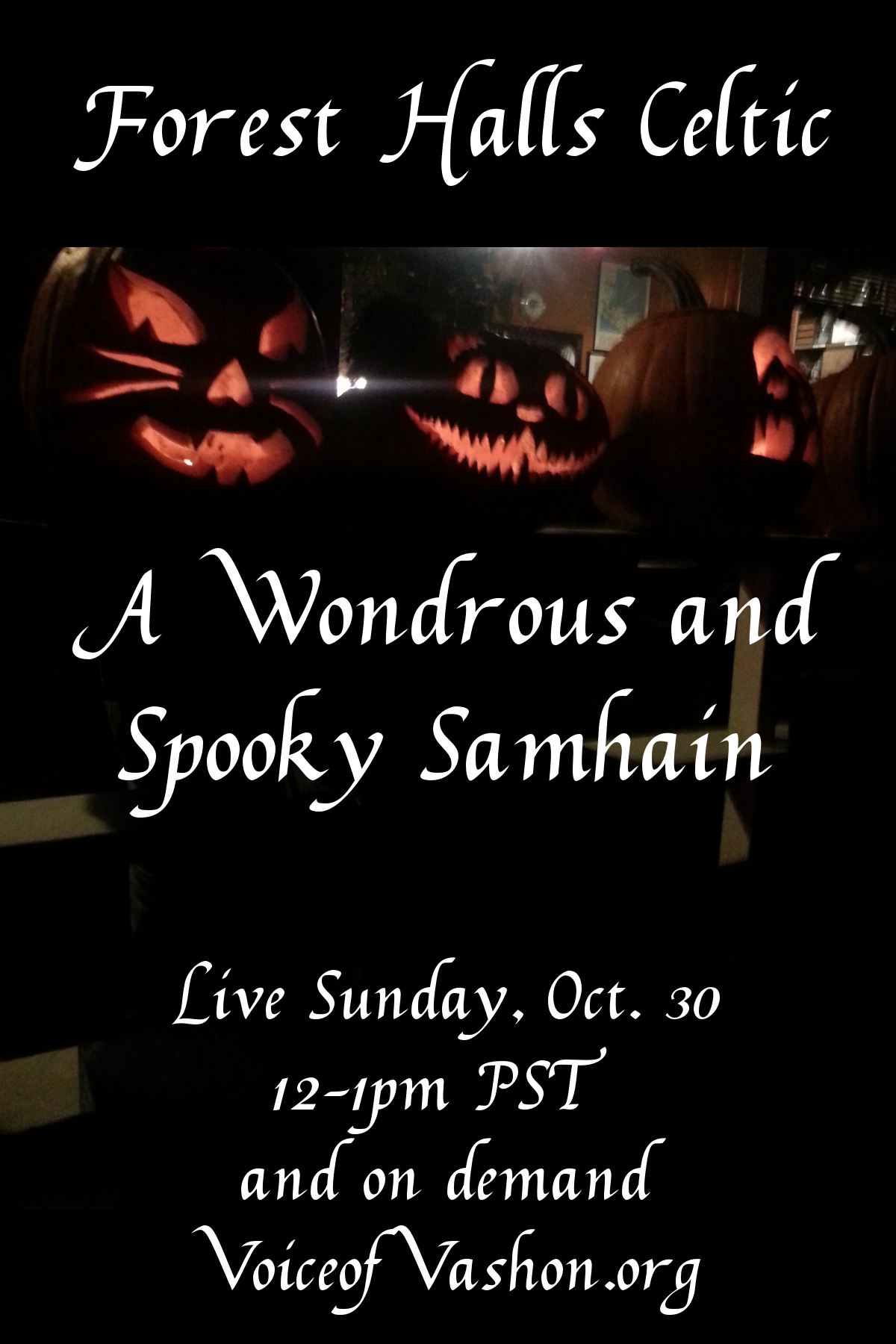 Format: "Track Title" – Artist (CD Title)
"Samain Night" – Loreena McKennitt (Parallel Dreams)
A beautiful piece with harp by the mistress of musical magic herself! Loreena's music is perfect for this episode.
"Samhain Eve" – Damh the Bard (The Hills they are Hollow)
Another heartful piece by Damh the Bard that brings the listener into lore and magic of Samhain.
"Once Upon a Time" – Margot Krimmel & Laura Melling
A sweet, poetic expression of harp and storytelling. Laura's lovely voice and words, and Margot's masterful harp playing carry the listener into pure enchantment.
"Abbots Bromley Horn Dance" – Spookytree (On a Snowy Eve)
Abbots Bromley is a village in Staffordshire, England which has a yearly folk dance where six dancers wear reindeer 'horns' that date back to the 11th century, and may have been imported from Scandinavia. Historians speculate about the origins of the dance, but it seems likely to me that it was originally performed ceremonially, to encourage a successful hunt.
In this version, Deb and I play on nylon- and wire-strung harps. Listen for Deb's "ghost" wire-strung harp at then end!
"The Dusty Windowsill" – Sileas (Harpbreakers)
Any inspired moment is an opportunity for creating a tune. Here Patsy Seddon (electric harp) and Mary MacMaster (wire-strung harp) find wondrous inspiration, taking a dusty windowsill to a realm beyond imagining.
Information about the tune, posted 14 years ago on The Session website:
The Dusty Windowsills was written by a man in Chicago, Illinois by the name of John Harling, it is NOT a traditional tune because the man is very much alive, he is in his 40s.

HOW THE TUNE GOT IT'S NAME: one day John was looking for something in his friend's appartment basement, and this tune popped into his head. He looked everywhere for something to write with and on. He came across a window with a layer of dust on it, and started to write it down, so that later he would come back and write it down on a piece of paper. Isn't that interesting…? Once again the man's name is JOHN HARLING…I know all of this because I am his 15 year old daughter…
"A Bruxa (The Witch)" – Anne Roos (A Light in the Forest)
A beautiful piece by Anne. This is a witch I think I'd enjoy meeting in the greenwood!
Ruaidhri – Castlerigg (Celtic Landscapes) – music
Robin Gwyndaf of the Museum of Welsh Life (Welsh Folk Tales) – tale
This bilingual book narrates legends and traditions, placing them in physical locations in Wales. In fact, for the publication of this book, an illustrated map was commissioned in which Margaret D. Jones that depicts images from these tales in their locations.
Against the backdrop of "Castlerigg" I read aloud fairy folklore from "Aberdyfi, Gwynedd" and "Gilfach Fargoed, Mid Glamorgan."
"Angry Birdz" – Cynthia Artish (Beyond all Telling)
A year before the famous game by the same name was published, Cynthia had a frustrating experience with a software company that fueled her to play her harp in a different way. This piece is a result of discovering that harp can effectively express her edgier emotions.
Cynthia put jute twine through all the strings to get the special effect that takes the harp out of the "pretty" realm.
Cynthia has sheet music available if you're a harper interested in playing this piece. It's a fun piece for harp groups to play as well! Visit her website to find out about it.
"Souling Song (Samhain Version)" – Kristen Lawrence  (A Broom with a View)
Kristen is an organist, composer, and singer who loves Halloween. In fact,her music-creation focuses on creating Halloween Carols(tm) that are fun and charming. This is one!

"Raise the Dead" – Caravan of Thieves (The Funhouse)
Caravan of Thieves is a gypsy-swing folk band based in Connecticut. Head over to Youtube to watch the video of this song. Discussing the video, Fuzz Sangiovanni (who with his wife Carrie Sangiovanni are the core of the group) told Spinner.com:
"We like writing songs about ghosts and afterlife, but this was the first one that had a big communal sing-along, clap-along feel to it. It needed to be, since it's about throwing a big party for all the deceased and honoring them for their life's achievements. We perform it live this way, get off stage, unplug completely, get the crowd to surround us, and stomp, clap and sing along. We recorded it this way for the album and made a video with the same feel, in a really old theater and cemetery."
What a wonderful concept: in the coming week or two, let's all throw a party for the dead and celebrate them! Thank you to Mark Morey for introducing me to this song and this band. (By the way, Mark is a special guest on our next show, "Ancestral Land."