The days are shifting into the long golden light of autumn, and a crispness has entered the air. Here on Vashon, the school year is about to begin, signaling the beginning of the full blown harvest that is the creative energy of fall. In today's show we musically enjoy the "last rose of summer."
Listen to the latest episode of Forest Halls Celtic on demand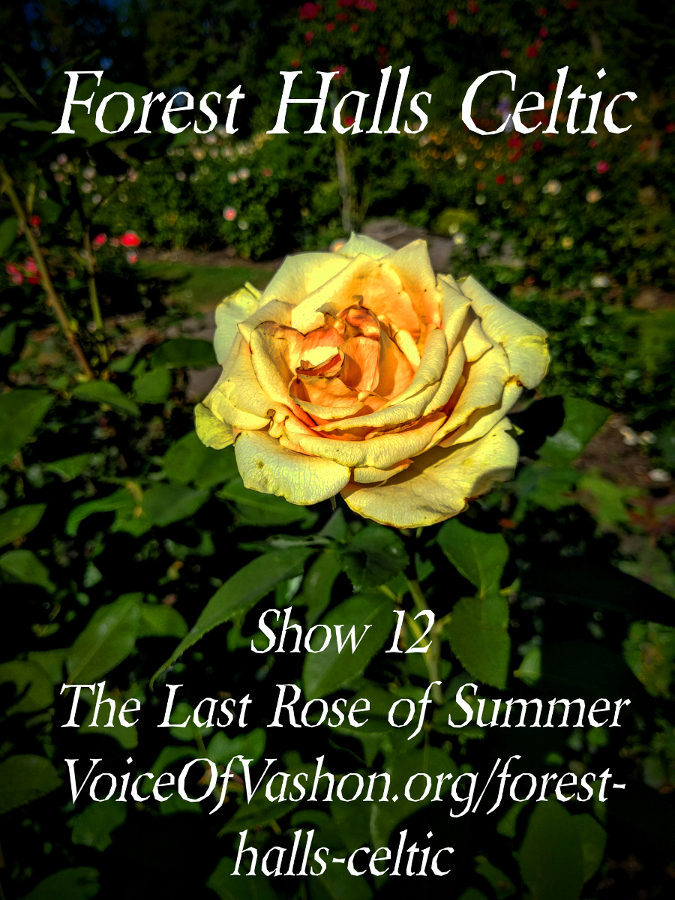 Format: Track Title – artist (CD Title)
"The Briar and the Rose" – Niamh Parsons and The Loose Connections (Loosen Up) 
Niamh Parsons (born in Dublin, Ireland) is a singer of contemporary and traditional Irish music.Niamh Parsons started her professional career in 1990, in Belfast. Having been singing at sessions around Dublin, Niamh first joined the band Killera from 1984-89. Joining her husband Dee with his band the Loose Connections in 1990, Parsons released two CDs with this band.
"One Summer's Morning" – Dougie MacLean (Fiddle)
Beloved Scottish songwriter and composer. Here is one of his instrumental compositions.
"Waltz of the White Lilies" -Déanta (Whisper of a Secret)
Déanta is an Irish traditional music band from Northern Ireland. The name of the band is the Irish word for done or made. The band, formed in the late 1980s in County Antrim, played together until 1997 and regrouped in 2008
This beautiful tune was written by Kate O'Brien, fiddler of Deanta.
Let's enjoy a few harp tunes …
"Sir John Fenwick is the Flower of Them All" – Cynthia Cathcart (Alchemy of a Rose)
Cynthia Cathcart is an expert on the Clàrsach, the wire strung harp of Scotland and Ireland, based near Washington, DC,  We also thank her for serving as the columnist on the wire-strung harp, "Ringing Strings," for many years for the ISFHC's Folk Harp Journal.
"Captain O'Kane" – Aryeh Frankfurter (The Music of O'Carolan: O'Carolan's Dream)
From Wikipedia: "Turlough O'Carolan (1670-1738) was a blind Gaelic harper, composer, and singer whose great fame is due to his gift for melodic composition. He was the last great Irish harper-composer and is considered by many to be Ireland's most celebrated composer.  "Captain O'Kane" is said to be composed in honour of a member of "a distinguished Antrim family, a sporting Irishman, well known in his day by the name of 'Slasher O'Kane'" [O'Sullivan]. Tune used by Robert Burns for "The Chevalier's Lament."
About Aryeh: Since 1994, Aryeh has been delighting audiences around the globe with his passionate, enduring and evocative music. Aryeh's uncommon approach to the Celtic harp and folk harp repertoire, command of the unusual Swedish nyckelharpa (or keyed fiddle) and other stringed instruments. He's based in the San Francisco Bay Area.
"A Place Among the Stones" – Maire Brennan (Misty-Eyed Adventures)
Here Maire performs with three of her sisters and uilleann pipes player Davy Spillane, who I believe served as a producer for this track.
"Soundscape of Relaxing Nature Sounds – Summer in an English Meadow" –Past Tense (youtube)
Lovely nature sounds.
"Blooming Heather" – Kate Rusby (Awkward Annie)
Kate is an English folk singer and songwriter from Penistone, Barnsley. The more I hear her, the more I love her style of singing! There's a lovely video of Kate performing this song at the Cambridge Folk Festival that is quite moving. In it, the audience stands, holding each other, swaying, singing softly this familiar and beloved song. And Kate in the video directs the orchestra (String quartet and brass ensemble) with gentle gestures – which as a music director myself I so appreciate. After all, directing is a kind of dance of the hands!
"Inis sui" – Maire Breatnach (Voyage of Bran)
On a quest to the Otherworld, Bran pauses on his travel over the sea at the Isle of Joy ….
Máire Breatnach is one of the most prominent fiddle players in Ireland.
" The Gold Claddagh Ring" – Andy M. Stewart, Phil Cunningham, Manus Lunny (Fire in the Glen)
From Andy M. Stewart's website:
(Words and Music: Andy M. Stewart)
"The Claddagh ring originated in an area known as The Claddagh near Galway City in the West of Ireland. The ring has a unique design, that of a heart being encircled by a pair of delicate hands. In this song, the young man's heart is well and truly in the hands of the girl he admires from afar. On getting to know her better, he falls falls victim to a clever  ploy."
"Fonn" – Salsa Celtica (The Tall Islands)
Salsa Celtica are a Scottish group that plays a fusion of salsa music with traditional Scottish instruments, including elements of folk and jazz. A surprising mix!
"River of Sky" – Jami Sieber (Timeless)
From her promo:
"Electric cellist and vocalist Jami Sieber reaches inside the soul with compositions that are contemporary, timeless, lush, and powerfully evocative. An innovative musician, Jami's music moves beyond the surface, seeking and re-seeking her truth by creating musical bridges and connections. Her life-long commitment to the environment, social justice, and the healing arts is at the heart of her music, reflecting a deep dedication to the arts as a medium of exploration and awareness of the interconnectedness of all beings.
Jami has always done something unique – employing electronics and looping techniques to create sounds never before associated with the cello she transforms her solo instrument into an orchestra of sound that opens the heart, defies the mind, and at times, sets the body dancing."
Jami is performing on Vashon, and I'm looking forward to the concert! See and hear her:
Friday, Oct 14, 7:30 PM
Vashon High School Theater
Tickets at Vashon Intuitive Arts, Vashon Bookshop; online at Brown Paper Tickets
Sponsored by Women's Way Red Lodge. More info: at Jami's website.
"The Last Rose of Summer" – Celtic Woman (Celtic Woman: A New Journey)
From Wikipedia:
"The Last Rose of Summer is a poem by the Irish poet Thomas Moore, who was a friend of Byron and Shelley. He wrote it in 1805, while staying at Jenkinstown Park in County Kilkenny, Ireland, where he was said to have been inspired by a specimen of Rosa 'Old Blush'. The poem is set to a traditional tune called "Aislean an Oigfear", or "The Young Man's Dream",which was transcribed by Edward Bunting in 1792, based on a performance by harper Denis Hempson (Donnchadh Ó hÁmsaigh) at the Belfast Harp Festival."
Méav Ní Mhaolchatha and Hayley Westenra of the group Celtic Woman sing this version.