Subscribe to Jane's Ezine "Acorn To Oak"
We will never, ever sell or distribute your email address to anyone!
Music To Nourish Your Spirit And Ignite Your Imagination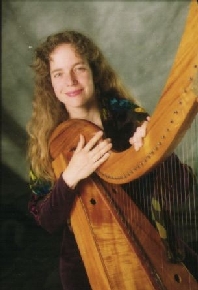 I have five Celtic harp and song CDs that celebrate nature's magic and our own joyful spirit. I invite you to browse this page and listen to samples of my music -- just click on the highlighted songs listed under each album title. Enjoy! ~ Jane Valencia
Recordings (click on titles to jump down to more detailed info) :
Album prices are $15 each or 5-for-4 at $60. Shipping costs are included in the purchase price. Streaming In Stone is also available as an MP3 download. Mp3 downloads of several of the other CDs are coming this spring.
I process orders within 24-48 hours.
Any questions? Contact me
Thank you for your interest in my music, and for supporting my creative artistry!
Purchase All Five Albums For Price Of Four.
Includes one copy each of
Streaming In Stone, The Harpers' Masque, Forest, On A Snowy Eve,
and
RoseGarden
.
Substitutions okay. Just indicate which combination of five albums you prefer in the Comments/Special instructions box during the Payment process.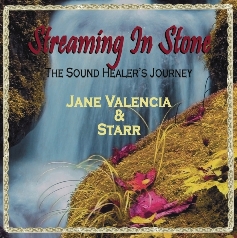 Jane Valencia & Starr.
Streaming In Stone.
- new CD!
This collection of improvisational vocal music, emerges from a deep winter landscape of mountains and rushing river, countless bright storytelling stars in the darkest night sky, and from the rocks and roots and wanderings in this place of beginnings.
In addition to our voices, a few pieces are accompanied by different instruments: singing bowl, drum, sruti box, harp. One piece is a lush oboe and violin duet, accompanied by voice.
Some of the tracks are ancient chants. You may recognize "Porimamine, Porisamine" or "Fanga" from West Africa, or a song honoring the four directions from our own Turtle Island. There is a sweet American Shaker dance song that we all know and love.
The songs--many without words--are expressions of the intimate connection with Nature, Mystery, and with each other, and of the surprises and wonders of our journey.
Click on the highlighted songs to listen to some free sample tracks!
Songs: Deep Down,Porimamine Porisamine (trad. West Africa), Call To Awaken, Simple To Give (our version of a beloved American Shaker dance song), Home, Sweet Streaming, Fire, Mist And Mountains, Fanga (trad. West Africa), In Honor Of The Four Directions (trad. Native American), Spaces Of The Heart, Porimamine Porisamine (reprise)
Instruments: Crystal bowls, drums, sruti box, harp, oboe, and violin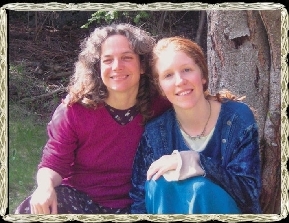 The Sound Healer's Journey, the Shaman's Way ~
A path into the very heart of Mother Earth.
We are finding the light in the darkness ....
And the streaming in stone.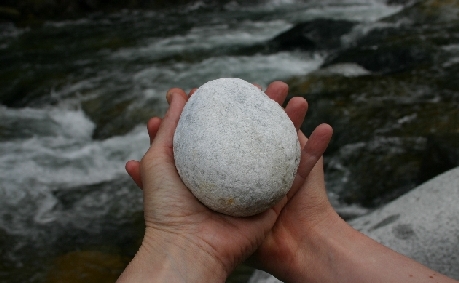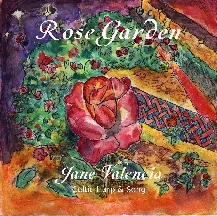 Jane Valencia. RoseGarden.
'rosegarden' - a space in the fullness of time, an interlace of shadow and light, color and texture, cultivation and wilderness, an evocation of the harmonies and rhythms of earth, life, and of the universe in its many emotions ...
Enter a landscape of countryside and chapel, forest and sea. Jane's gentle vocals and the crystalline bell-like tones of her ancient Celtic metal-strung harp weave together in mystic, spacious, and playful impressions of a garden that dwells in the heart of each moment.
Featured are songs sung in Welsh and Gaelic, a Renaissance motet, a serene 19th century French composition, and enchanted musical journeys inspired by melodies from 13th century Orkney Islands and by a 16th century Irish aire. Also included are several poetic original songs and compositions suffused with echoes from times past and imagery from the natural world. Here is a music that rings with both passion and grace.
"[The music is an] evocative mood of tranquility and peace, beauty, and ancient mystery in the mix of pieces both ancient and new. Jane's arrangements are never overdone and her harping is excellent. She is a lyrical, tender musician of great imagination and emotional expressiveness."
- THE FOLK HARP JOURNAL
Songs: Gymnopedies 3 by Erik Satie, Rose Song, Hymn to St. Magnus (Nobilis humilis), Aderyn du a'i blufyn sidan (O Blackbird of Silken Wings), A Luminous Sea, Dawn Redwoods, A Rose for Bea, Cum essem parvulus (When I was a Child), St. Brigit's Hymn, Bodach Beag A Loinean (The Little Old Man of the Pond), Zoo School, New Year's Day
Wire-strung harps, vocals, gut-strung Gothic harp, nylon-strung harp, African harp, tabla, oboe. Guest musicians: Verlene Schermer, Barry Phillips, Debra Knodel, Vicki Parrish, Drew Niles, and Bill Kiefer
"[RoseGarden] is an album obviously created with love and care. The instrumentation is beautiful and soothing, a relaxed New Age recording with a slight Celtic and old world flavoring. The instrumentals shine. 'Hymn To St. Magnus' and 'A Rose For Bea' create pictures of the sea and a garden, respectively, without saying a word ..."
- VICTORY REVIEW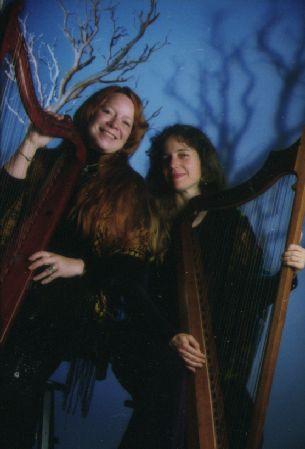 As the Pacific Coast Duo Spookytree, Debra Knodel and Jane Valencia celebrate the magic of the natural world in a pageant of harps and song. Drawing from the fire and light of ancient Celtic traditions and from the mists and rhythms of the earth's turning, Deb & Jane create a tapestry of music as shining as an illuminated manuscript. Relax into a sumptuous and joyful sound experience!

Knodel & Valencia. Forest.
Journey into a magical forest in which mysterious creatures whisper, the Green Man dances, and the old melodies sing. In this new album, Deb and Jane's nylon- and metal-strung harps interweave with myth and song to create a space where the boundaries between time and place no longer exist. Music and magic await you!
Read a review of Forest on RAMBLES - a cultural arts magazine.
... and read some more reviews.
Songs: Into Forest Halls, Benachie Sunrise, Cradle Song, Concerto al Fresco - aka Carolan's Concerto, Calling of the Cows, Spootiskerry, Binwag's Lullaby, Willafjord, Hwiangerdd, Masque, Wild Geese, Hin Hin Haradala
Nylon and metal-strung harps, Paraguayan harp, African bow harp, gut-strung harp, fiddle, bowed psaltery, cello, bamboo flute, tin whistle, oboe.
Guest musicians : Verlene Schermer and Michael Carey, Elizabeth Golden, and Sarah Burns.

Knodel & Valencia. The Harpers' Masque - A Celebration of Celtic Harps.
Note: All instrumental album (no song). Perfect to have playing in the background!
Described by one of our distributors as "a sonorous, spacious, magical sound tapestry", The Harpers' Masque is a celebration of the unique voices of our nylon and wire-strung harps. Many of the tunes are traditional Scottish and Shetland - learned during Alasdair Fraser's Valley of the Moon Scottish Fiddling School and from the San Francisco Scottish Fiddle Club. Others include Irish tunes, a medieval Italian melody, and a couple of original compositions that reflect our impressions of the woods and winter in Wyoming, and the canyonlands and mesas of the southwest. Join us as our harps lead us to destinations ranging from misty northern shores to a south-of-the-border fiesta!
Read some reviews.
Songs: Lonesome Road to Dingle, Winter Creek, Lauda, Return to Fingal, Chanters Tune, Lochaber No More, Waltz of the Little Girls, Hebrides Dances, Redlands, Lisdoon, Shetland Reels, The Fisherman's Song for Attracting Seals.
Nylon and metal-strung harps, fiddles, viola, acoustic and fretless bass, English horn, piano, percussion. Guest musicians include Laura Risk & Athena Tergis, Sam Page, and Chris Caswell.

Silverwood & Spookytree. On A Snowy Eve.
Snow falling in the evergreens
Firelight shining on the hearth
Gather round and listen ....
As the harp duo Spookytree, Deb Knodel &amp I teamed up with the music duo Silverwood to create this CD of winter music. Silverwood is harper and vocalist Verlene Schermer and her sister, flautist Linnette Bommarito. Warm yourselves at our hearth and listen to gentle melodies of the snow-etched trees and of the fragile beauty of this quiet season, and joyous songs celebrating the turning of the year. Enjoy the the merry cheer of friends!
Songs: Carolan's Welcome, The Evergreen/Greensleeves, Winter, Fire, and Snow, Abbots Bromley Horn Dance, I Saw a Fair Maiden, One Wintry Night, Snow on the Summit, I Saw Three Ships, Psalm 42, O Virgo Splendens, Christ Child's Lullaby, Serving Girl's Holiday, Cancion del Ano Nuevo, Twilight
Instruments: Nylon, wire, & cross-strung harps, flute, alto flute, vocals, guitar, oboe, English horn, fiddle