Many year ago, Dian Cecht — physician, god of healing, and member of the Tuatha De Danaan (an ancient tribe of divine folk in Ireland) — scattered his daughter Airmid's cloak of herbs. With this action, he cast a possible comprehensive herbal tradition to the winds. As you might guess of an action initiated by rage and jealousy, unintended consequences have resulted.
(Hear the tale in Forest Halls Celtic – Episode 1. It takes place about halfway through the show. You can also read the tale in the Forest Halls Celtic – 4/3/16 Show Notes)
Rumors that herbal tradition had gone underground, and has recently erupted into renewed vigor and mischief appear to be well-founded, as represented in the photo below. It appears that a harp is about to be set upon by herbs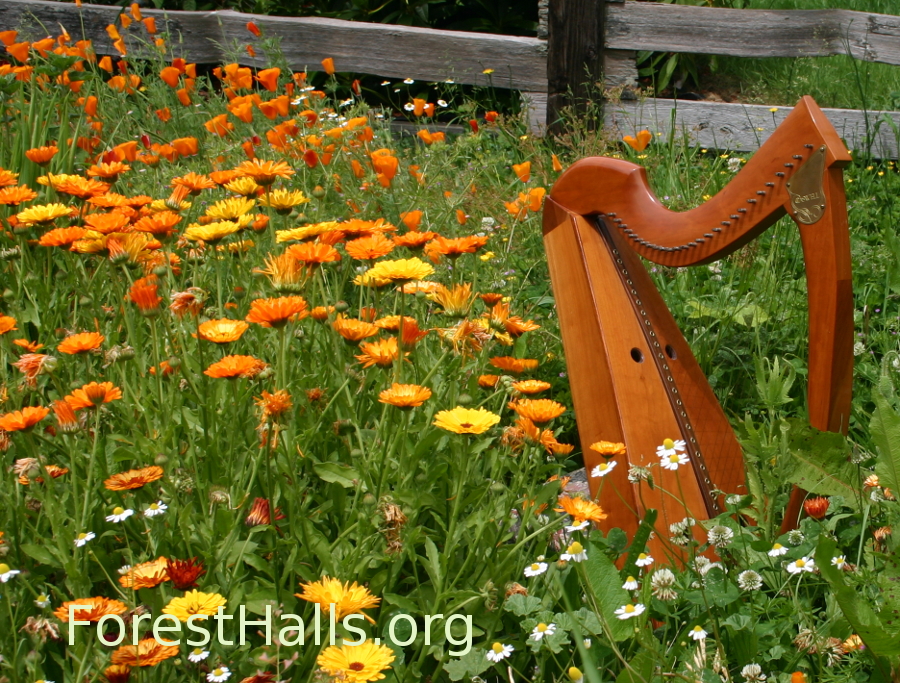 Alert!
Herbal magic may pounce upon us at any time! It is imperative that we reassemble Airmid's herbal cloak to prevent absolute pandemonium. PLEASE NOTE: Disagreement exists as to whether the chaos will result from feral herbs having wild garden parties in our hallowed concrete jungles, or from unconscious followers of Dian Cecht's emotional state responding with fear and outrage to the fun and powerful healing mystery of the green beings that have been living beside us all this time.  Agreement does exist that reassembling Airmid's herbal cloak will help bring the healing ways of the herbs to one and all. This was Airmid's original intentio, and, we presume, that of her brother the astounding healer, Miach.
Help us reassemble Airmid's herbal cloak! Here's how:
In the comment box below:
Identify one or more herbs in this photo
Describe a healing property of each one you I.D.
Describe where one might find that herb laid out on Airmid's cloak
Furthermore:
If you are an herbalist or lover of the plants, please let us know how you are contributing to the restoration of Airmid's herbal cloak!
Important PS.!
Rumor has it that harp tradition – also resurfacing after centuries underground –  is in cahoots with the herbs. If that's so, then the above photo may not actually represent the herbs sneaking up on the harp, but the harp leading the charge!!!! If you have reason to believe that the harp is enmeshed in restoring lost tradition please report the following:
How has a harp you've witnessed contributed to restoring lost wisdom to your neighborhood or community at large. 
PLEASE NOTE: If you are a harper, you yourself may have inadverently — or deliberately — contributed in this way!!!
If so, please share your subversive action(s). (In the harp underground, this is often referred to as a "random act of harping")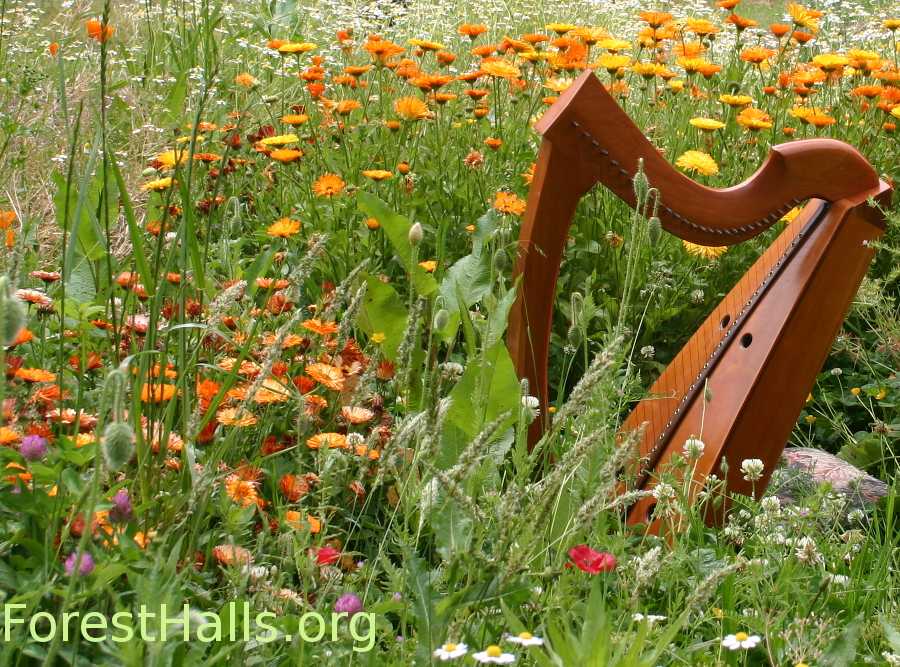 Important PPS:
If you play an instrument, engage in a folk craft, art, or tradition, or creative expression of any kind you likely are contributing to a revitalized, intelligent, nature-allied, wise world. This is absolutely noteworthy, and we here at Forest Halls commend you for your dedication and passion.
Please share with us your creative expression, and your thoughts on how it helps reweave a cloak of joyful and wise healing ways in the world.
Please submit reports in the comment box below!
Your comments will be compiled into a Forest Halls report (blog post) that will be issued in conjunction with the next episode of Forest Halls Celtic, and given special mention there.
Thank you for your important contributions to healing, peace, harmony, authenitic expression, creative imagination, and radical fun in the world!