Do you know any girls ages 7-10? I'm so excited to be teaching this brand new Vashon Wilderness Program summer camp:
Mon-Fri, July 21st-25th – NEW – Secrets Of The Greenwood: Herbal Magic Camp For Girls Ages 7-10. 9am-3pm. The plants have special messages for you, and the trees speak of a mysterious mission. Come enter the hidden world of the greenwood! In this farm and forest adventure, we'll learn the secret language of plants and discover their healing power … ! Find out more at the Vashon Wilderness Program.
Monday, October 6, 7-9PM. House Concert with Steve Baughman, Celtic Guitar and Spookytree Celtic harp duo – Deb Knodel & Jane Valencia. Location TBA
Not to be missed! Steve is an amazing nationally-known fingerstyle guitarist. Deb & I are an awesome Celtic harp duo :-). Deb & I have performed together for more than 25 years, with three albums to our credit. The two of us and Steve played together in times past in various musical configurations. This is a rare opportunity to hear all of us in person. Steve will perform solo pieces, Deb & I will offer our harp duets, and the three of us will play some tunes together. You will experience real musical magic here. Join us!
Last but not least: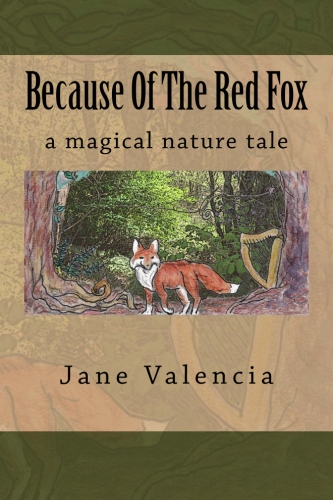 Isn't this a fun quote about my children's magical novel, Because Of The Red Fox?
"Great read. Not just for young adults … No vampires or zombies but plenty of shape-shifting characters. The writing is beautiful and the word play is lots of fun."
–Joyce Kiefer, Columnist for Bay Area FamilyTravel and The Well-ReadDonkey
Farewell, and enjoy your bountiful, vibrant May!
~ cheers,
Jane