One thing I love about producing Forest Halls Celtic is that I have times each week when I go "foraging" for music that is new to me. I'm especially eager to discover younger voices, and not just choose from my favorites of 20-30 years ago (though I enjoy playing those too!).
I'm especially delighted with some of my discoveries this time round:  One is Scottish contemporary folk singer, Kris Drever, singing  a song based on John Steinbeck's articles in 1936 called the Harvest Gypsies, about the lives of the migrant workers of California. This song is lively and a joy to listen to, even as it presents a harshness of life that is still the reality of many groups of people today. Another is a piobaireachd — the classical music of the great Highland bagpipes — beautifully arranged by pianist Chris Gray. And let's not forget the harps! We hear from Maeve Gilchrist, Julia Lane, Rachel Newton and Seckou Keita (kora, a 22-string African harp), and Cécile Corbel. In Cécile's piece we hear a melody commonly played by beginners to the harp turned into a whole new version!
12:00: Forest Halls Celtic – Show 36/Spookytree – Lochaber No More
12:01: Annie Grace – Jock O'Hazeldean
12:04: Maeve Gilchrist – Peerie Joel's Waltz (Ale Moller)
12:09: Kris Drever – Harvest Gypsies
12:12: The Bothy Band – The Strayaway Child
12:17: Nicola Benedetti – Coisich a Ruin (Walk My Beloved)
12:23: Julia Lane & Fred Gosbee, Castlebay – All Soul's Night/Lament for Owen Roe
12:29: Rachel Newton – Here's My Heart Come Take It
12:32: Rachel Newton and Seckou Keita – Willow
12:37: Chicouté – Go to the Ewe-Bughts, Marion / Tourbillon matinal
12:42: Cécile Corbel – Brian Boru
12:48: Chris Gray – MacKintosh's Lament (Cumha Mhic an Toisich)
We're also hearing right now Show 15, "A Wondrous and Spooky Samhain."
Listen to both for the next two weeks — as well as Show 21 — snuck in on the air today by a tech-pixie!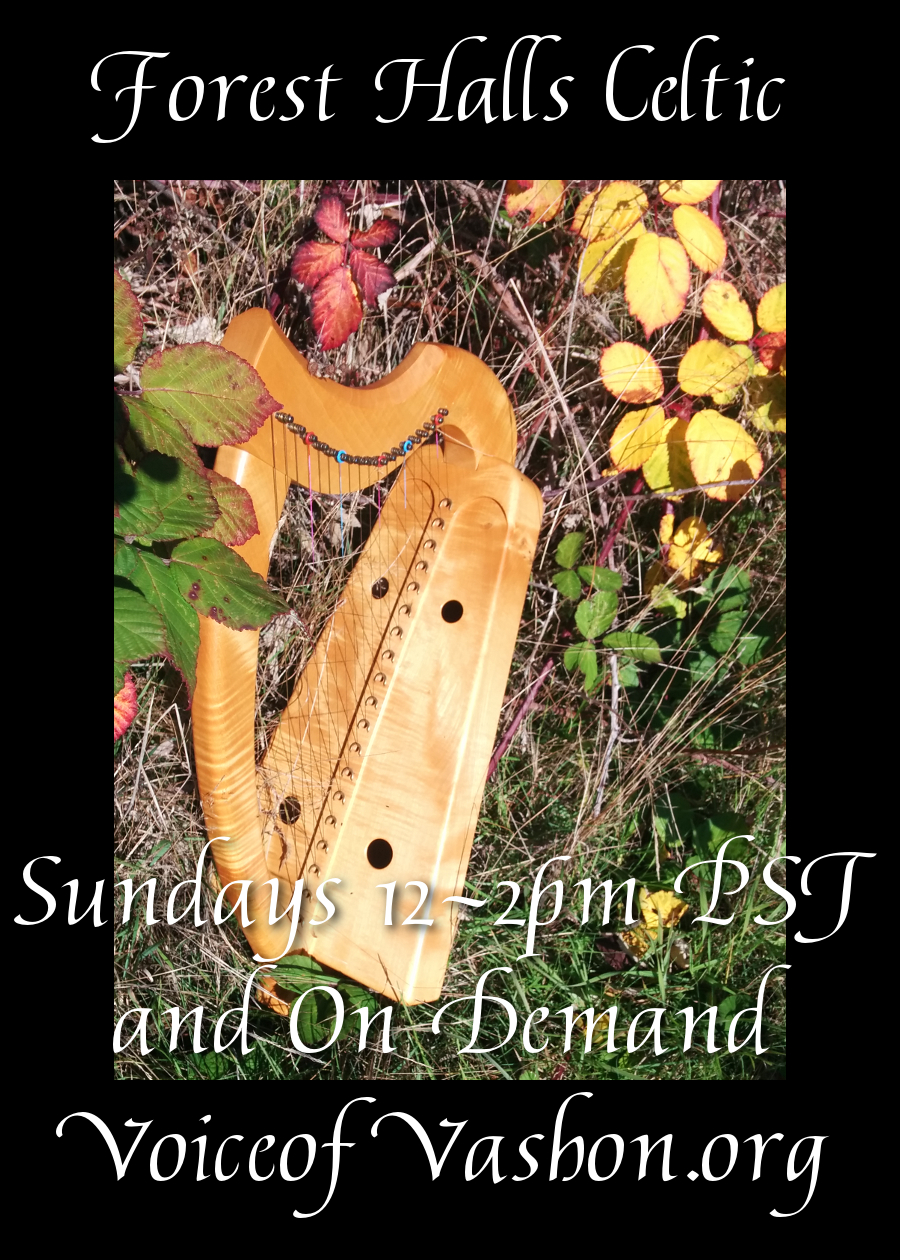 P. S. I just realized that this is the birthday of the small harp featured in this photo. Not the harp's actual date of completion, but the day it showed up on my doorstep after a long journey from Scotland and Ardival Harps,  across the ocean and continent, with delays due to 9-11. This little harp is 18 years old. Happy birthday, Snowy Owl!