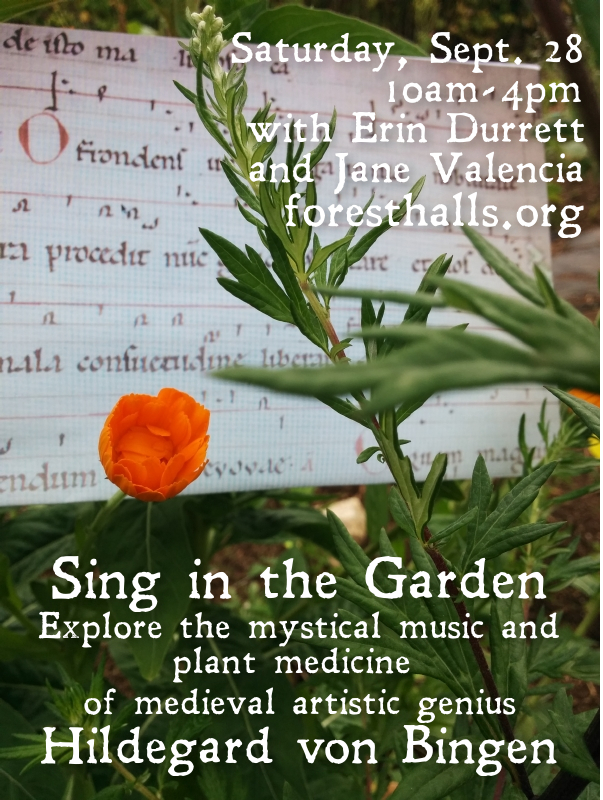 Enter a garden in which the earth, the healing plants, and humankind are expressions of divine harmony. In a day devoted to beauty and direct engagement, we'll experience for ourselves the vibrance and blessing of the music and medicine of Hildegard von Bingen.
Hildegard von Bingen (1098-1179) was a German abbess, composer, mystic, skilled healer, and saint. Discover how her music and herbal medicine mirror one another as expressions of the Sacred both within ourselves and in the world around us. We'll sing chant and get to know the plants and their healing language.
When: Saturday, September 28, 2019, 10am to 4pm
Where:  a private location on beautiful Vashon-Maury Island
Cost: $100 or Pay from the Heart (you choose what you pay). Scholarships available. No one turned away for lack of funds. Fee includes a simple healthy gluten-free, dairy free lunch and snacks.
Notes: Part of our morning and afternoon sessions will be outdoors. Please bring clothing and anything else you need to be comfortable outside.
Do you play the harp, lyre, or early-style stringed instrument? You are welcome to bring it! You will have opportunities to musically explore Hildegard's chant, and we will offer guidance for that.
You would be welcome to arrive as early as 9:30am to tune.
Questions? Please contact us here

Enroll here

Your Guides:
Erin Durrett has been a cantor for sacred liturgy for twenty-five years and is currently Director of Music Ministries at Church of the Holy Spirit (Episcopal) on Vashon Island where she also writes music for the Puget Sound Zen Center.  She was a founding member and assistant teacher of the Seattle Medieval Women's Choir under the direction of Margriet Tindemans for several years and will be teaching a workshop on Hildegard and the Water of Life in Iona, Scotland in 2020 as part of an international conference on music as a medium of healing.
Erin loves working with people of all ages and teaching music from all periods, genres and cultures.  She has recently taught workshops on the Harmony of the Spheres, Chants of the Divine Feminine and most recently using chants from all over the world as part of daily spiritual practice.
Jane Valencia loves to share the healing magic of the plant world with those who are curious to work with these green beings. An herbalist and nature instructor Jane is a returning presenter at this fall's Pacific Women's Herbal Conference where she will teach a workshop a Hildegard workshop for the family herbalist. She is a graduate of the Chestnut School of Herbal Medicine's Herbal Immersion Program, and will pursue training in clinical herbalism in the fall.
A Medieval Studies major in college, Early British Studies post-grad in Wales, and a professional bardic harper and storyteller, Jane has long been fascinated by medieval and renaissance music and culture. Her devotion to Hildegard von Bingen combines her passions for chant, herbs, medieval and folk ways, and ancestral connection: Hildegard lived 120 miles from the village where Jane's paternal ancestors lived for centuries.
Jane has written some Hildegard-related articles. Here are two:
Heaven and Earth: A Brief Walk with Hildegard into the Healing Nature of her World
Wrapped in Nature: Tuning into the Language of Healing
as well as Gratitude, Sip by Sip