***GIVEAWAY is closed. Congratulations to Stacy, Stephanie, and Bonny!***

*

I'm delighted to offer an opportunity for not 1, not 2, but 3 winners to each receive a Family Ticket (worth $50 each) to an amazing storytelling festival taking place this Saturday on my own magical island.

You are a Storyteller, I'm a Storyteller. We human beings all have the gift of storytelling! You might say that the gift of storytelling is perfectly natural to us … part of our true nature.

Don't believe me?

Think about when you meet with your best friend and you start saying with excitement: "You'll never guess what happened …!"

Or, at the dinner table, when you share with your family the good and the bad of the day.

Or, when you're feeling down and you start doodling a frowning or angry or very sad face, or just dark, fierce strokes across a sheet of paper.

All of us are Storytellers, evoking the emotions and feelings and tales that reflect what has happened to us or things that we're excited, mad, or whatever about with our words, our gestures, our facial expressions.

You're a Storyteller, I'm a Storyteller. It's part of our nature.

Many of you may know that I teach with an amazing wilderness program that nourishes deep nature connection with kids (and grown ups too), the Vashon Wilderness Program. Kids in our program come to regard the beings of the natural world as companions and friends, and themselves as just as much a part of nature as anything else. (And I hope that you who are reading this blog feel this way too — that you are a citizen of the natural world, and that it is a citizen of you!).

An essential element of our program is Storytelling. We instructors share stories to inspire, to ignite imagination, to teach, to nourish a sense of awe and "what if". To have fun.

And we encourage our students to tell stories — to share what they loved about the day, what excites them, what they notice. We cultivate a circle of Storytellers, and of Story Listeners. And as we listen to one another, and respect each others' tellings, we expand that respect to listening to what the birds have to say … and the trees … and the animals hidden around us.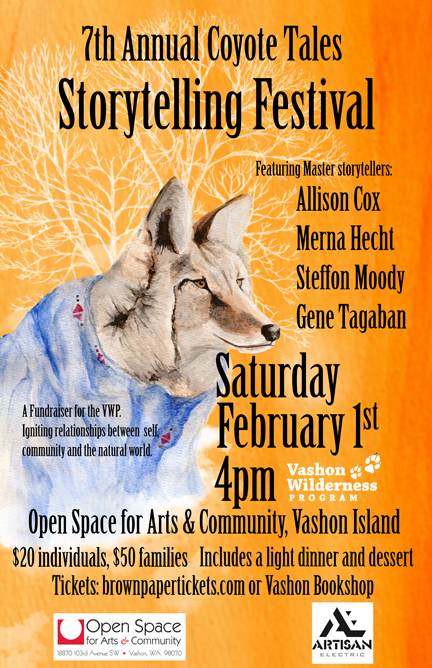 For a number of years now, the Vashon Wilderness Program has hosted an outstanding Storytelling Festival This Saturday, February 1st, starting at 4pm will be our 7th! If you live on Vashon Island, or in the Puget Sound region, or know someone who does, consider entering my Giveaway of a Family Ticket to three different winners. This year features four dynamic and masterful storytellers: Allison Cox, Merna Hecht, Steffon Moody, and Gene Tagaban. For the first time too the event includes a light and delicious dinner and dessert.
Each year is an amazing coming together of community in celebration of the magic of nature, the wonder, strength, and beauty of story, and of our rich connection to one another. Whether you win the Giveaway or not, please join us!
Here's how to enter the Giveaway:
Leave a Comment! For more chances to win leave a separate comment for each of the following that you do:
tell us how you are a storyteller, and give an example of how nature has shown up in your storytelling (you can include a relevant link if you'd like)
sign up for the Vashon Wilderness Program newsletter, receive their free e-booklet, "10 Awesome Practices to Make Nature a Natural Part of Your Family Life," and share which practice(s) excite you most
browse the Vashon Wilderness Program website, share something that excites you about what you read and/or share about the Storytelling Festival on your blog, or other social media. Leave a comment for each, with links.
sign up for my Acorn To Oak free quarterly ezine
describe one magical experience you've had in nature (you'll be telling a small story right here!)
Sign ups end Wednesday night. I'll draw the three winners on Thursday morning, 1/30/14. I'll then contact you and we can work out how you may receive the ticket (in person or at will call).
Thank you so much for entering this Giveaway! Good luck, and I hope to see you at the Storytelling Festival.
PS To submit your comments, click on each of the images below the comment box, until they rotate to an upright position.