Greetings, folks!
If you're on the Island, I invite you to join me for an hour of musical and magical fun for the whole family. Come with me into the mischievous world of Leaves, the Red Fox, in this bardic performance and book reading of my children's fantasy novel, Because of the Red Fox.
Shhhh … It's a secret!

My children's fantasy novel, Because of the Red Fox is actually a top secret guide book for tracking the enchantment that's all around us — even in our own families and in ourselves!  Discover how to become a magical naturalist and find out what the fox really says!

When: Sunday, March 29, 2-3pm. Where: The Vashon Bookshop, 17612 Vashon Highway SW, Vashon, WA 98070
Jane Valencia is a bardic harper & storyteller and nature teacher, whose performances, classes, writings, and art help families who want to keep the magic of connection alive despite the stresses of a too-busy world.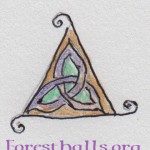 Can't make it to Vashon? I'll be travelling to the San Francisco Bay and Santa Cruz, CA, as well as to Portland, OR in the coming year, and perhaps other places as well. I'd love to bring this show and other family magic offerings to your community. Please contact me if you know of a particular book shop, organization, or group — or even you yourself — who might be interested  in hosting this event. Thank you and cheers!