Last Sunday I had the mysterious and exciting experience of a flute calling me.
The previous night my husband and I attended the HARP Seattle concert, which featured luminaries of the harp world in performance (Kim Robertson, Patrick Ball …).
Sunday morning I was on fire, wanting to work on performance pieces and get to know my beautiful new wire-strung harp better (I'll post a pic soon!).
But Sunday morning arrived and the day opened up … I did a little playing. Suddenly an agitation took hold! I had thought to attend a Native American Flute making workshop, but had never actually signed up. I thought I'd made peace with letting that possibility go, but now it was 11:15am (fifteen minutes after the workshop was to start) and I found myself restless, unable to settle down.
Fine. I'll go check things out.
I grab my purse, and think to myself: maybe I wasn't the only one who never ended up registering. Maybe the workshop was cancelled. And even if it is happening, how can I possibly end up with a beautiful sounding flute if I make it myself?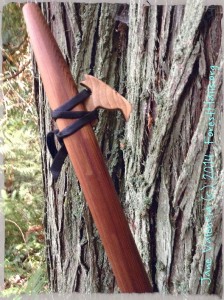 And … I'm late!
Even so, it feels like … a flute is calling me!
I arrive at the workshop location. The workshop instructor, Paul Che-oke'-tan Wagner, has just arrived from the ferry and is only now setting up. I haven't missed anything! Then I see that he has these wooden blocks all prepared for carving — with the bore and holes already drilled in. Wow, we're going to end up with real instruments!
I settle in with the other workshop attendees, and shape my flute using planes and sand paper. Later we choose the animal-shaped "blocks" to tie onto our flutes' "nests". (Find out about Native American flute anatomy here). I end up with Raven (and wonder about that. But the pattern on the wood is so compelling to me.). We sand those as well.
At the end, we rub food-grade mineral oil into our flutes, and watch as they transform under our hands! The other flutes are various shades of blonde in color. Mine ends up a chocolate red-brown (yum!).
All of the wood used for these flutes was from reclaimed old-growth red cedar. I'm dazzled at the idea of discovering music on an instrument made of such a powerful and loving medicine tree.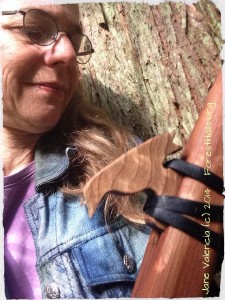 Paul gives us a brief flute lesson. He follows with wise teachings and fun and beautiful tales that draw us into the world of nature-rooted village and the healing ways of the people who once populated this land  — ways that I hope all of us on our earth island home can eventually live and enjoy again.
I offer the video below to soothe your spirit and to inspire you. What is Elder or "old-growth" nature to you? How do you exchange breath with nature, with the trees, with all-that-is (let me assure you, you do!)? What is a song (literal or figurative) that emerges in you when you partner with nature and Mystery to express a little of that larger nature, a little of yourself?
May we all reclaim our "old-growth" natures. Wouldn't it be great to discover that the holes and bore and nest of this magical nature are already prepared. All we'd need do then is to finish up our instrument of self, soul, and Mystery with attentiveness and prayer, and receive in the process a brief and gentle orientation to this profound nature. Wouldn't that be lovely?!
From there, we'd just breathe deeply, share our breath with beauty, and move our fingers or do whatever else we are called to do … and discover a rich song pouring forth.
I'll reprint here what I wrote on Youtube about this video:
"Yesterday I made this flute at a Native American flute making workshop taught by Paul "Che oke' ten" Wagner. Today I brought the flute to a lovely older Red Cedar that I know. the flute is made from reclaimed old growth red cedar. I thought the three of us (tree, flute, and me ) might discover some music together. Here's a song we found."
I'm sure you've had your own experiences of Spirit calling you. Please share your story!