Enjoy fun and beautiful Celtic Christmas and winter music, plus a poem in our latest show, "Midwinter Day."
12:01: Mithril – Christmas Eve Reel / New Christmas / The Gravel Walks
12:06: Chris Newman & Maire Ni Chathasaigh – Away in a Manger
12:10: Barry Phillips and Friends – Nos Galan (Deck the Hall)
12:14: Aine Minogue – Reflections On A Scottish Christmas (spoken)
12:15: Bonnie Rideout, Maggie Sansone & Al Petteway – Christmas Carousing / Ale Is Dear / New Christmas
12:19: Silverwood and Spookytree – One Wintry Night
12:21: Enya – Christmas Secrets
12:27: Thea Gilmore – Sol Invictus
12:29: Paul McCandless – Coventry Carol
12:33: Yo-Yo Ma, Alison Kraus – The Wexford Carol
12:38: Sileas – Leanabh an Aigh
12:41: The Harpers Hall Ensemble – El Noi de la Mare
12:44: Kate Rusby – Cold Winter
12:51: Solas – Home For Christmas Day
12:56: The Chieftains – The Bells of Dublin / Christmas Eve
Listen to the latest episode here.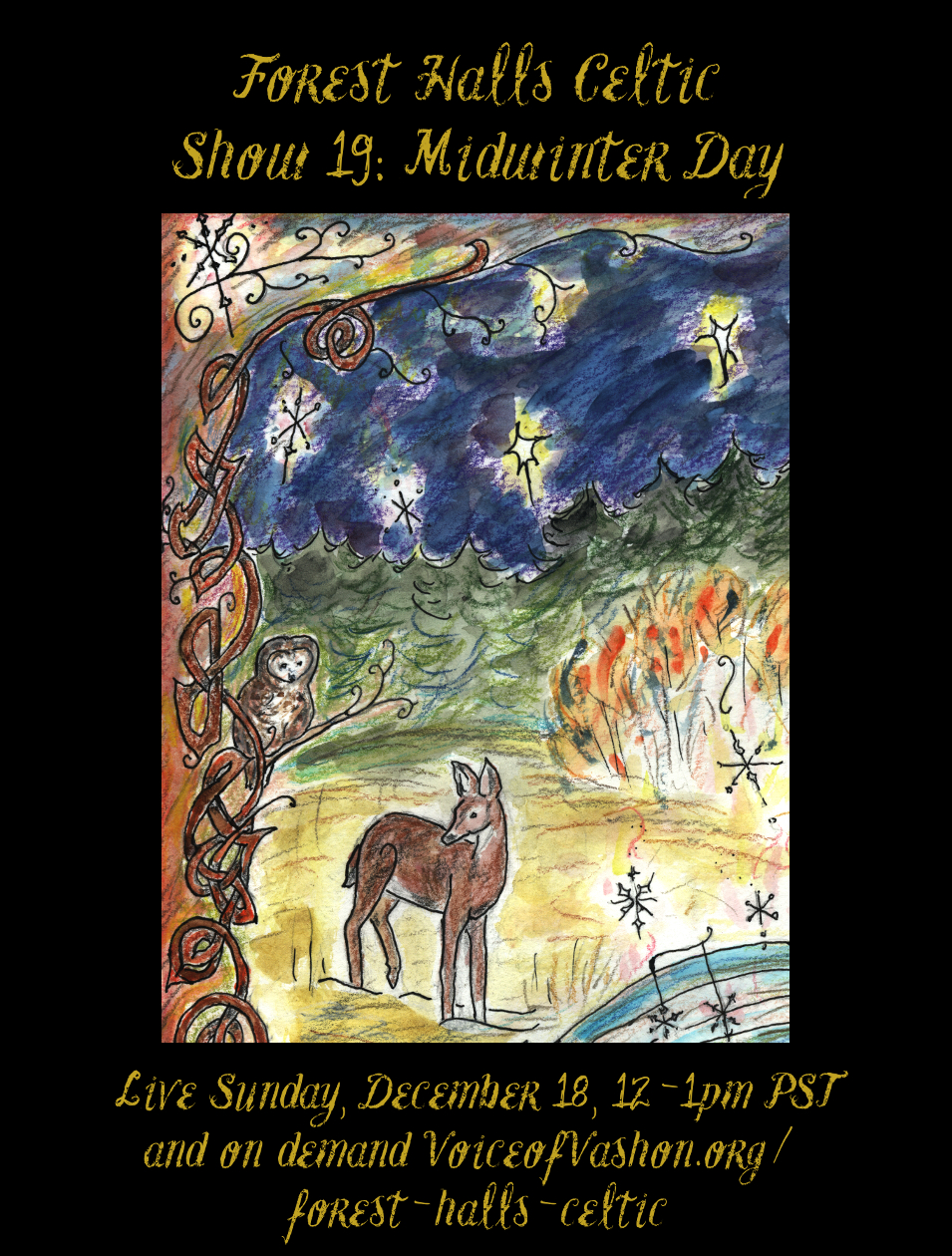 Art by Jane Valencia
Format: "Track Title" – Artist (CD)
"Christmas Eve Reel/New Christmas/The Gravel Walks" · Mithril (Winter's Day)
Hailing from Mobile, Alabama, Mithril delivers Celtic Music that pushes into American folk, classical, rock and World Music territory with a fun and free spirit.
"Away in a Manger" – Chris Newman & Maire Ni Chathasaigh (Christmas Lights) 
A lovely interpretation of this classic carol, with guitar, Irish harp, and flute.
"Nos Galan (Deck the Hall)" – Barry Phillips & Friends (Colonial Christmas)
Cellist Barry Phillips is joined by fiddlers Robert Evans and Deby Benton Grosjean, and double-strung harper, Jesse Autumn for this traditional Welsh tune. This may be the first time we've played double-strung harp on Forest Halls Celtic!
"Reflections On a Scottish Christmas" Aine Minogue & Johnny Cunningham (To Warm the Winter Night)
Reflections On a Scottish Christmas by Johnny Cunningham
The dark of winter wraps around us tight.
The lamps are fired, and flickering light
beats time to the fiddle as notes float softly down, like the years' first snow.
While outside the window a blast of late December wind
whistles harmony to the drone of the pipes.
We push the old year back against the wall
so we can dance a jig for Christmas and welcome in the new
"Christmas Carousing / Ale Is Dear / New Christmas" · Bonnie Rideout, Maggie Sansone & Al Petteway (A Scottish Christmas)
This set features Bonnie Rideout on Scottish fiddle, Al Petteway on guitar, cittern and bodhran, Maggie Sansone on hammered dulcimer and guest Eric Rigler (the piper on the The Titantic, Braveheart soundtracks) on bagpipes.
"One Wintry Night" – Silverwood (On A Snowy Eve)
Sisters Verlene Schermer & Linnette Bommarito perform beautiful harp and flute (respectively) on this original composition.
"Christmas Secrets" – Enya (Sounds of the Season: The Enya Holiday Collection)
Underneath a winter sky,
A distant train sings out the miles.
And so I wonder can it be,
Will every mile bring you to me?
A promise made may still come true,
So I am waiting here for you.
If you don't come, what will I do?
Who shall I tell my secrets to?
"Sol Invictus (Undefeated Sun)" –  Thea Gilmore (Strange Communion)
This song reminds us that the sun is returning.  Thea Gilmore is an
English singer-songwriter.
"Coventry Carol" – Paul McCandless (Winter Solstice III)
As a former oboist and English horn player, I always have an ear for fine playing of these instruments. Here's a beautiful arrangement of this 16th century English carol.
"Wexford Carol" – Yo-Yo Ma and Alison Krauss (Songs of Joy and Peace)
Awesome arrangement of this Irish carol. Besides Yo-Yo's rich cello playing and Alison Kraus' exquisite vocals, you'll hear Cape Breton fiddler Natalie McMaster, and player of the gaita – the Galician bagpipe — Cristana Pato.
"Leanabh an Aigh" – Sileas (File Under Christmas)
Many of us know this melody as "Morning has Broken," a hymn made famous by Cat Stevens. That hymn was set to a melody of an older song. The Scots Gaelic lyrics "Leanabh an Aigh" (Child of Joy), were written by Mary MacDonald (Màiri Dhòmhnallach) (1789–1872) to a traditional tune.
"El Noi de la Mare (The Child of the Mother)" – The Harpers Hall Ensemble (Harpers Holiday)
Here this multi-level harp ensemble plays a traditional Catalan Christmas carol.
"Cold Winter" – Kate Rusby (The Frost Is All Over)
Lovely song by an amazing traditional English singer-songwriter.
"Home for Christmas Day" Solas (Soundcloud)
Written by Seamus Egan and Mick McAuley, this song imagines what a newly arrived immigrant to Butte might have felt facing his or her first Christmas in foreign land far from the warm embrace of family and friends.
Solas is an American musical group officially formed in 1996, playing Irish traditional music as well as original compositions that dabble in the country, rock, and americana genres. Their name comes from an Irish word meaning "light."
"The Bells of Dublin / Christmas Eve" – The Chieftains (The Bells of Dublin)
Song performed by The Chieftains with the bell-ringers of Christchurch Cathedral, Dublin.