Santa, here.  I'm super-excited because dragon-artist Suzanna Leigh is allowing us to show some of her dragon art right here on FoxTales!
Let me give you some background.  Suzanna is an amazing watercolor artist, who also paints on silk.  This month she has a show of her dragon art at a place called Vashon Intuitive Arts.  Suzanna creates lots of different kinds of art–all really beautiful and magical and full of sweet charm.  But dragons have a special place in her heart–to which I, as purveyor of DragonAir!–of course totally relate.
Here's our mini-show: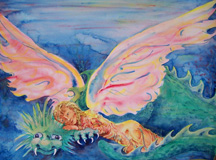 I just love the expression on this dragon's face. I'd love to snuggle with him too!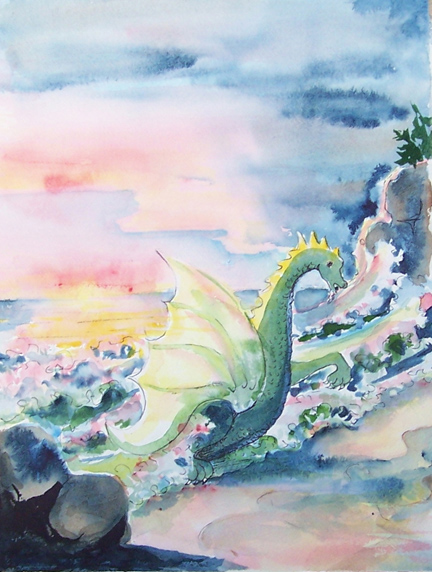 Shell is particularly struck by this piece. I'm sure it's because of an upcoming Leaf — no, I'm not going to give you any spoilers! I'll just say that you'll likely understand the connection when Jane posts Leaf 1 of the Fourth Branch.
In the meantime, we want to let you know that Suzanna will be telling stories about her dragon art next Saturday, April 14, at 7PM, at Vashon Intuitive Arts, 17331 Vashon Hwy SW, and Shell, Annie, and I intend to go! I'll even let Mom take us over hill and over dale in the quadricycle.
If you happen to be on the island, you come too, and introduce yourselves. We'll be the ones accompanied by the red tea pot (Yes, Tam is excited to hear the stories as well!).
In the meantime, enjoy Jane's latest installment of Because Of The Red Fox. Our story continues with Govan and his adventure with my cell phone ….