The theme of today's show is "Place" — in particular, how the nature of the land and summer speak through our hearts, and we in turn give voice and expression to our experience of the land. In this show we also celebrate Father's Day with a few songs honoring dads.
00:11 Spookytree (Deb Knodel & Jane Valencia) – Lochaber No More
01:59 Julie Fowlis and Muireann Nic Amhlaobh – Tha'm buntata mor / An Bairille / Boc liath nan gobhar
05:33 Danu – County Down
11:15 Phil Cunningham – The Palomino Waltz
18:29 Kate Wolf – The Redtail Hawk
22:20 Patrick Ball – Castle Kelly
28:21 Verlene Schermer and Kyle Wohlmut – Take 5 / Butterfly in 5
33:02 Swainsons Thrush – Squamish River Estuary
34:45 Sharlene Wallace and Kim Robertson – The Butterfly
37:28 Ffynnon – Aros Mae
41:53 Dougie Maclean – Talking With My Father
47:06 Dawn and Margie Beaton – Live at ECMA 2010
57:38  Siobhán Armstrong – Mary O'Neill
Listen to the latest show on demand.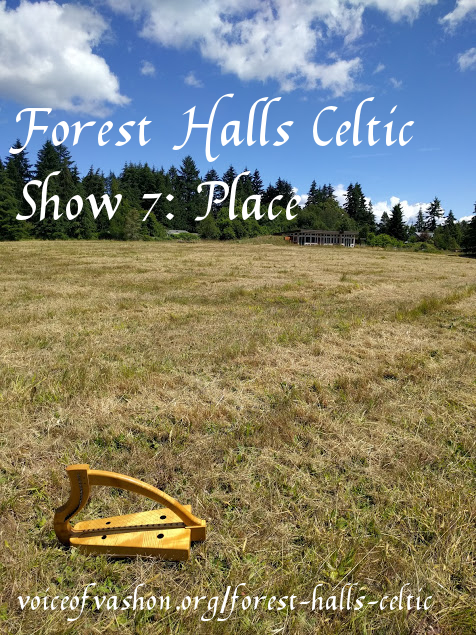 Format: Track Title – artist (CD Title)
"Tha'm buntáta mór / An Bairille / Boc liath nan gobhar" – Julie Fowlis and Muireann Nic Amhlaoibh  (dual)
Some solo singing by Julie and Muireann, and then some lovely whistle playing by them both.
dual is an album by four acclaimed Irish and Scottish musicians: Éamonn Doorley, Muireann Nic Amhlaoibh (both prominently of Danú), Julie Fowlis and Ross Martin.
The artists released the album in October 2008 on their official websites. The album was planned to project the similarities and differences between the Irish and Scottish Gaelic song traditions
"County Down" – Danú 
A song by Tommy Sands performed by the Irish band Danú. Muireann Nic Amhlaoibh (born 1978) is a musician and singer from County Kerry, Ireland. She was the lead singer from the traditional music group Danú until 2015.
"Palomino Waltz/Donna's Waltz" – Phil Cunningham (The Palomino Waltz)
Rufous Humingbird – Squamish River Estuary – Woodfibrebirder 
Music of a hummingbird you might hear in Forest Halls at this time of year.

"The Redtail Hawk (Golden Rollin' Hills of California)" – Kate Wolf
Golden rolling hills speak to me of the hot summer sun. One of my favorite songs ever – and I think, that of my husband Andy too. Here's a version we're not familiar with. For you, Andy – I reckon the golden rolling hills of California will always speak to our hearts.
"Castle Kelly" – Patrick Ball (Fiona)
A lovely arrangement that well-showcases the ring and tones of the wire-strung harp. I believe the album this song is on, Fiona, is named for his then new daughter (back in 1993).

"Take 5/Butterfly in 5 (Paul Desmond/Trad.)" – Verlene Schermer and Kyle Wohlmut
Two good friends of mine, who have coincidently or not – been up to Vashon at separate times to visit. Verlene is a harper and singer/songwriter in the SF Bay Area. She also plays the Scandinavian Nickel-harpe … I'll have to play some of that for you sometime. Kyle Wolmut is a Bay Area harper who has been living overseas for some time now. I believe he's currently based in Germany. How does he bend the notes? Possibly with his tuning key pressed against his string and sliding against it. I don't have the nerve to try that on my wire-strung harps. The tension seems too tight on them, and my newest wire-strung harp is still breaking a few too many strings in the upper couple of octaves …
Regarding the "bending note" question, here is a note that I received from Verlene after the airing of this show:
"I can shed light on his bending notes. He actually used pitch change pedals to do that.  So it's electronic!"
Thanks for solving that mystery for me, Verlene!

"Greetings to you, sun of the seasons" (Alexander Carmichael, new trans. Kenneth Jackson)
Words after Scottish-Gaelic – traditional folk prayer:
Greetings to you, sun of the seasons, as you travel the skies on high, with your strong steps on the wing of the heights; you are the happy mother of stars.

You sink down in the perilous ocean without harm and without hurt, you rise up on the quiet wave like a young queen in flower.
Kenneth Jackson, A Celtic Miscellany
Alexander Carmichael Carmina Gadelica vol III p 311
Wikipedia:
"Carmina Gadelica is a compendium of prayers, hymns, charms, incantations, blessings, literary-folkloric poems and songs, proverbs, lexical items, historical anecdotes, natural history observations, and miscellaneous lore gathered in the Gaelic-speaking regions of Scotland between 1860 and 1909. The material was recorded, translated, and reworked by the exciseman and folklorist Alexander Carmichael (1832–1912)."
Swainson's Thrush – Squamish River Estuary – Woodfibrebirder (Youtube)
Here on Vashon Island, the Swainson's Thrush is the quintessential herald of summer for many of us. When we hear that upward-spiraling flute-like song, we know that summer has arrived. We only hear that song for a short time – so be sure to get outside and enjoy that symphony.
"The Butterfly" Sharlene Wallace and Kim Robertson (Q & A )
Extraordinary Celtic harpers from Canada and America respectively play their version of this favorite Irish slip jig.
"Aros Mae" – Ffynnon (Celtic Music from Wales)
Acapella with beautiful vocals of Lynne Denman
A setting of the poem by the 19th century bard Ceiriog. The poem describes the wind roaring across the mountains and the flowers appearing each year. Although many things come and go some are unchanging, amongst these, the old language and the old tunes remain.
Aros mae'r mynyddau mawr
Rhuo trostynt mae y gwynt ….
 "Walking with my Father" – Dougie Maclean (Till Tomorrow w/ Royal Scottish National Orchestra)
It was hard to choose between this version of "Walking with my Father", and the earlier, on the album Who Am I.  But, as a former oboist, I have a soft spot for lovely orchestration that includes an oboe solo — and, even more, it's the kind of accompaniment my dad enjoys. I'm playing this song in honor of my dad.
Dougie Maclean is Scottish singer-songwriter, composer, multi-instrumentalist and record producer.
From: http://www.linnrecords.com/recording-Till-Tomorrow.aspx:
"Dougie MacLean needs no introduction; as a singer, songwriter, composer and instrumentalist, no artist captures the soul of Scotland with more authenticity or emotion. 'Till Tomorrow' features a hand-picked selection of songs
"Originally famed for writing the song Caledonia, Dougie has teamed up with conductor John Logan and the Royal Scottish National Orchestra to bring a new and beautiful symphonic dimension to his best-loved songs …"
"Secluded Beach" – Seamus Byrne (Just Before Dawn) 
Recorded in Co. Wicklow, Ireland in Spring, this very early morning dawn chorus quietly and delicately announces the day as the first birds begin their song, even as the sun is still below horizon.
Dawn and Margie Beaton – Live @ ECMA 2010 – Celtic Colours Festival Club Stage
Musicians playing Patrick Gillis (guitar), Dawn Beaton (fiddle), Margie Beaton (fiddle), Jason Roach (keyboard)
Dawn and Margie Beaton, sisters, are
Cape Breton fiddlers, here performing a set of tunes at the Celtic Colours Festival, which is an annual festival of music and Celtic culture held on Cape Breton Island.
.