Note from Jane: Shell, Santa (Samantha), and Annie are three cousins who appear in my children's "magical nature" fantasy novel, Because Of The Red Fox, which I'm delighted to say, will be available on Nov. 8! I'll step aside now to let the girls have their say, as they tell us what's new in their lives on Yonder Island.
Shell: Well, Santa, I knew you were excited about all those mushrooms we've been seeing in the woods, but ….
Annie: I don't remember them being so blurry
Santa: They weren't! I just got a little excited ….
Shell: I'll say. But let's allow our Readers to take a look.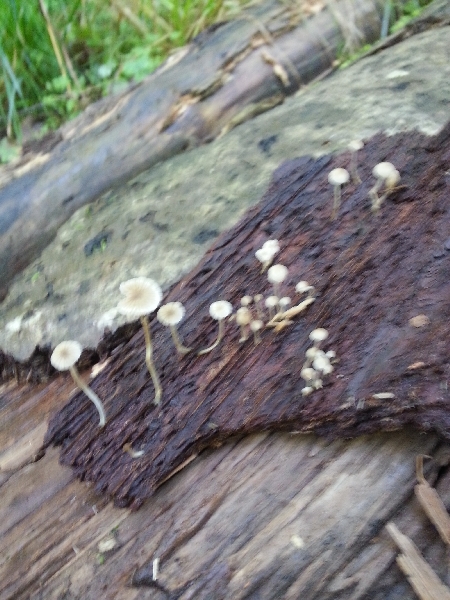 Santa: I know what you're thinking, Shell. And you don't need to be so critical.
Shell: Not only is it blurry, but it's sideways.
Santa: That's artistry! And it would have ended up perfectly if I hadn't–
Shell: –started jumping up and down. You really can't expect to get a good photo when you do that.
Annie: But she had reason to be excited. We all did.
Leaves (the Red Fox): As I recall, you all were boinging up and down.
Shell: Well, yes … but you have to admit, Leaves. We had good reason.
Annie: This fall has been amazing! So many kinds of mushrooms are sprouting up everywhere. Ruffly-dress mushrooms, spatter-groit mushrooms, supreme emperor mushrooms, mushroom village mushrooms, rose beauty mushrooms, feathered mushrooms, slimes ….
Shell: Annie, I don't think those are the real names of the mushrooms we saw on our wander the other day.
Santa (vigorously waving a Field Guide in front of Annie's face): They absolutely are not! You are so totally making up all those names.
Annie: Of course, and why not? Mushrooms are so mysterious and elegant and weird that they deserve to have us be inspired and make up names for them.
Shell: Well, it's sure fun to dream up names for all of them, and stories and histories too.
Santa: Anyway, my photo is of some teeny-tiny mushrooms that grew up on a slab of bark.
Shell: You haven't identified them?
Santa: Hmph! No. But give me time. The point of this post and my boldness in showing you this photo, is that this is a really special year for mushrooms, at least here on Yonder Island, in the Pacific Northwest. We are discovering so many different kinds–
Annie: –and they're just everywhere, and a bunch of different sizes!
Shell: It's pretty amazing. I've never seen mushrooms and other fungi like that before. Something about the rain and the sun …?
Santa: I don't know. It's just a really amazing time … to be a mushroom, I guess.
Shell (raising an eyebrow): Hmmm. Well, Readers, maybe it's a great time for mushrooms where you live, too. Next time you see a mushroom growing on a lawn or under a tree, look a little further. We've been finding them on logs and under logs, on trees, pathways, under shrubs, and up slopes–
Annie: Just everywhere!
Santa: If you see any where you live, please tell us about them! Their color, their shape, what other plants hang out with them …
Shell: What they remind you of — just anything!
Annie: Is this a secret mission?
Santa (snorting): Not very secret, if we're broadcasting the idea on a blog!
Shell: Secret enough. We look forward to your reports, Readers! Shell, Santa, Annie, and Leaves, signing off for now!