Today's show is devoted to the Power of Music and its ability to enchant. Irish myth describes "Three Noble Strains" of music, known as the geantraí – song of joy/merriment, the goltraí – song of sorrow, and the suantraí – song of comfort/for soothing. You'll hear expressions of all three "strains" in the music and stories played and told today.
Click here for the latest Forest Halls Celtic show on demand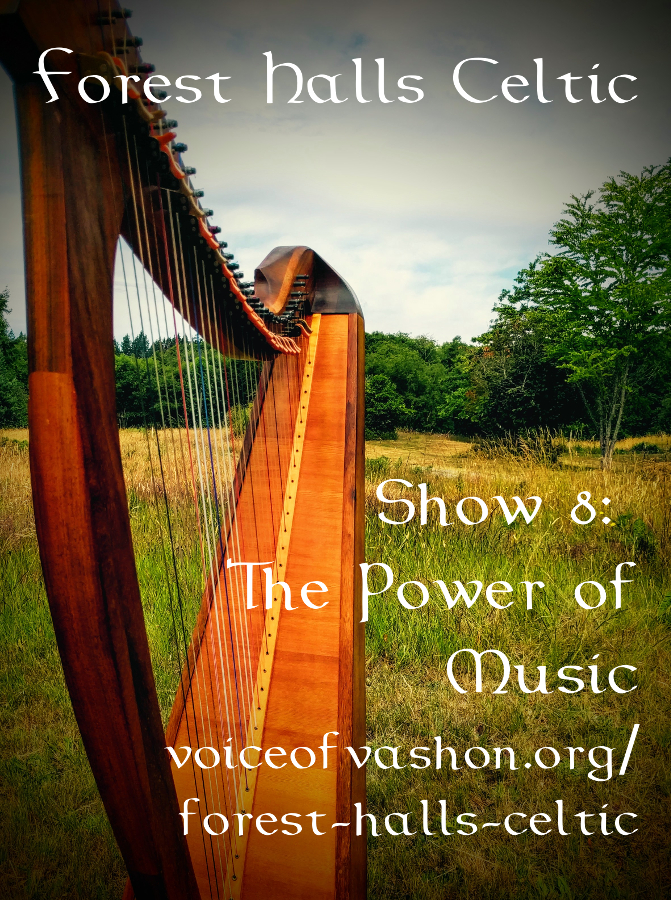 12:00 Forest Halls Celtic / Show 8 – The Power of Music – Recorded on 7/3/2016 and updated for 7/19/20
Spookytree (Deb Knodel & Jane Valencia) – Lochaber No More
12:01 Heartstring Quartet – Sir Patrick Bellew's March / An Cailin Rua Gaelach (The Red-haired Irish Girl)
12:05 William Taylor – Macpherson's Testament
12:08 Paul Machlis – Darkness Falling
12:12 Dagda – Harp of Dagda
12:16 Johnnie Lawson – Natural Sound of the Forest Birds Singing
12:18 The Chieftains & James Galway – The Red Admiral Butterfly
12:23 Máire Ní Chathasaigh – Carolan's Farewell to Music
12:30 Fiona Davidson – Deirdre of the Sorrows
12:46 Anúna – Sleepsong
12:50 Julie Fowlis – Cadal Ciarach Mo Luran
12:54 Tiffany Schaefer – Reconciliation
12:56 Spookytree (Deb Knodel & Jane Valencia) / Lochaber No More
12:57 The Irish Consort / Sorrow Sorrow Stay
Format: Track Title – artist (CD Title)
Geantrai – song of joy and merriment
"Patrick Bellew's March / An Cailin Rua Gaelach" – Heartstring Quartet (Heartstring Sessions)
The Heartstring Quartet brings together two famous Irish duos: Arty McGlynn & Nollaig Casey, Máire Ní Chathasaigh & Chris Newman. Nollaig and Máire are sisters who play fiddle and harp, respectively.
"Macpherson's Testament" – William Taylor  
Bill (William) Taylor researches, performs, teaches and records the ancient harp music of Ireland, Scotland and Wales. He is one of very few players interpreting these repertoires using gut-strung medieval harps, renaissance harps with buzzing bray pins and wire-strung clarsachs.
In this show, I (incorrectly) stated that I thought that Bill Taylor was a harpmaker for Ardival Harps. But that isn't so. He is a harper-in-residence for Ardival Harps. The actual makers are Zan and Alex Dunn and associates.
My friend and colleague, singer-songwriter and harper, Verlene Schermer writes:
"There is in Irish folklore, a story about the three sacred strains of music. The three strains are known as the goltrai — song of sorrow, the suantrai – song of comfort, and the gentrai – song of joy (Walton). The Dagda Mor, (the good god) is the leader of the Tuatha De Dannan, (the Fairy Folk – who are gods themselves), and it is his harp, Uaithne, that has the magical ability to bring listeners to tears, to put them to sleep, or to cause them to dance."
Here we enjoy the story itself …
"Harp of the Dagda" – Irish Myth retold by Barra the Bard (Barra Jacob-McDowell) – read by Jane Valencia/ Music: "Darkness Falling" Paul Machlis (Greenwoods) 
Barra the Bard received her name from the Isle of Barra in the Outer Hebrides off the West Coast of Scotland and her love of storytelling from her maternal grandmother, Abigail Jones Dangler. With a repertoire of over 5,000 stories Barra specializes in tales from the Celtic nations (Scotland, Ireland, Wales, Cornwall, Isle of Man, Brittany, & Spain). She also enjoys telling stories from other ethnic traditions as well as family stories of her own.
Check out my Article for the Folk Harp Journal, Be A Bard: Start Down an Ancient Path, which features an interview with Barra.
Read Barra the Bard's "Harp of the Dagda".
"Harp of Dagda" – Dagda (Celtic Trance)
A review on Amazon.com says:
"If you're not looking for "Traditional" Irish jigs, reels, lyrics, ballads or tunes, but rather a tightly put together selection of songs with a modern, mystic, Celtic "flavor" and a dream-like quality, with a nice heavy bass beat…then this is a CD for you!"
Danceable rhythms overlaid with string arrangements and lilting Celtic melodies compose the sound of Ireland's Dagda, the collective moniker for producers Red Keating and Phillip O'Rely.
Johnnie Lawson -Natural Sound of the Forest Birds Singing 
Today's forest sounds are from Johnnie Lawson. He writes: "I search out tranquil, quiet places in nature where we like to go when we want peace and calm, away from the stresses of modern day life. I capture the sense of beauty and tranquility of each location in sound and vision. It is my pleasure to bring these healing videos to you, free for you to relax with at any time of the day or night, anywhere in the world."
On Forest Halls Celtic, we've heard several versions of the Irish slip jig, The Butterfly. A slip-jig is in 9/8 time, but we've heard it also in 11/8 and 5/4. In this next version, we hear yet another rhythmic variation, that of 12/8 tim.
"The Red Admiral Butterfly" (slip jig) James Galway & The Chieftains (James Galway & The Chieftains in Ireland)
Douglas Hadden writes:
"The Chieftains" and James Galway play an arrangement of the Irish slip-jig, "The Butterfly". Possibly the best-known "slip-jig" [ in 9/8 time ] in Irish traditional music. It was made popular by "The Bothy Band" on their first eponymous album. It is often thought of as an original composition by Dublin fiddle-player Tommy Potts, but it is generally accepted these days that he "re-arranged" parts from other traditional tunes, and possibly only the 3rd part is original. In any case, a great tune. "The Chieftains" arrangement plays the original – a great introduction by Matt Molloy – and then change the time signature into 12/8."
Goltraí – song of sorrow
"O'Carolan's Farewell to Music" – Máire Ní Chathasaigh (The New Strung Harp)
From Wikipedia:
"Turlough O'Carolan (1670 – 25 March 1738) was a blind early Irish harper, composer and singer whose great fame is due to his gift for melodic composition. Although not a composer in the classical sense, Carolan is considered by many to be Ireland's national composer. … Some of Carolan's own compositions show influences of the style of continental classical music, whereas others such as Carolan's Farewell to Music reflect a much older style of "Gaelic Harping."
Reputedly the last song composed by O'Carolan — perhaps even on his deathbed! — Carolan's Farewell to Music is an expression of goltrai — a song of sorrow.
Máire Ní Chathasaigh is an amazing Irish harper, and one I listened to carefully when I first began learning harp.
"Deirdre of the Sorrows" – Fiona Davidson (The Language of Birds)
The Celts know all about beauty, passion, tragedy, and grief. In this story we experience how music gives voice to this Irish myth. This is a tragic tale, but so beautifully and richly told.
Fiona Davidson had quite a career as a harper, storyteller, and bard, and performed in Iona, a progressive Celtic rock band from the United Kingdom, during its early years. These days, she goes by the name Fionntullach, and is devoted to the path of the Celtic spiritual tradition, the Céile Dé.
Suantraí – song of comfort, for soothing, lullabye
"Sleepsong" – Anúna (Invocation)
This absolutely gorgeous song was written for a tale that contains elements similar to the preceding tale of Dierdre.
Wikipedia:
"The Pursuit of Diarmuid and Gráinne (Irish: Tóraigheacht Dhiarmada agus Ghráinne or Tóraíocht Dhiarmada agus Gráinne in modern spelling) is an Irish prose narrative surviving in many variants. A tale from the Fenian Cycle of Irish mythology, it concerns a love triangle between the great warrior Fionn mac Cumhaill, the beautiful princess Gráinne, and her paramour Diarmuid Ua Duibhne. Surviving texts are all in Modern Irish and the earliest dates to the 16th century, but some elements of the material date as far back as the 10th century. …"
The princess Gráinne is to wed the aged great warrior Fionn, but she falls for the young warrior, Diarmuid. They run off and are pursued.
They hide from Fionn in a forest near the River Shannon, where in this greenwood shelter Gráinne soothes Diarmuid with a lullaby.
"Cadal Ciarach Mo Luran (Sleep Well My Beloved)" – Julie Fowlis  – (Gach Sgeul – Every Story)
Scottish folk singer Julie Fowlis sings a "sleepsong" along the same lines as the preceding song.
Sleep well my beloved,
Sleep well my beloved,
Sleep well my beloved,
I'll always be with you …
Added for 7/19/20:
Music Tiffany Schaefer and The Irish Consort