In the Celtic Wheel, the Autumn Equinox is the time when we let go of striving, and enjoy instead the full and abundant harvest of all that we have experienced and worked toward in the year and in our lives. In this episode we gather in a joyful harvest of music plus a couple of early Irish poems related to the "time of fulfillment."
Listen to the latest episode of Forest Halls Celtic on demand
02:15 Davy Spillane – Equinox
07:00 Relativity – Siún Ní Dhuibhir
11:05 Altan – The Rosses Highlands
15:46 Mary Dillon – The Banks of Claudy
20:04 Cara Dillon – Hill of Thieves
25:18 Clannad – Coinleach Glas An Fhomhair
31:11 Flora MacNeil – Craobh Nan Ubhal (Apple Tree)
33:52 Alasdair Fraser and Paul Machlis – Nighean Donn A' Chuailein Riomhaich
36:31 Molly's Revenge – Bart's Rant
42:58 Sileas – Buain A'Choirce
44:40 Verlene Schermer – Bridget Cruise
48:34 Verlene Schermer – Persephone's Art
52:59 Gaia Consort – The Scythe
55:47 Steeleye Span – Marigold/Harvest Home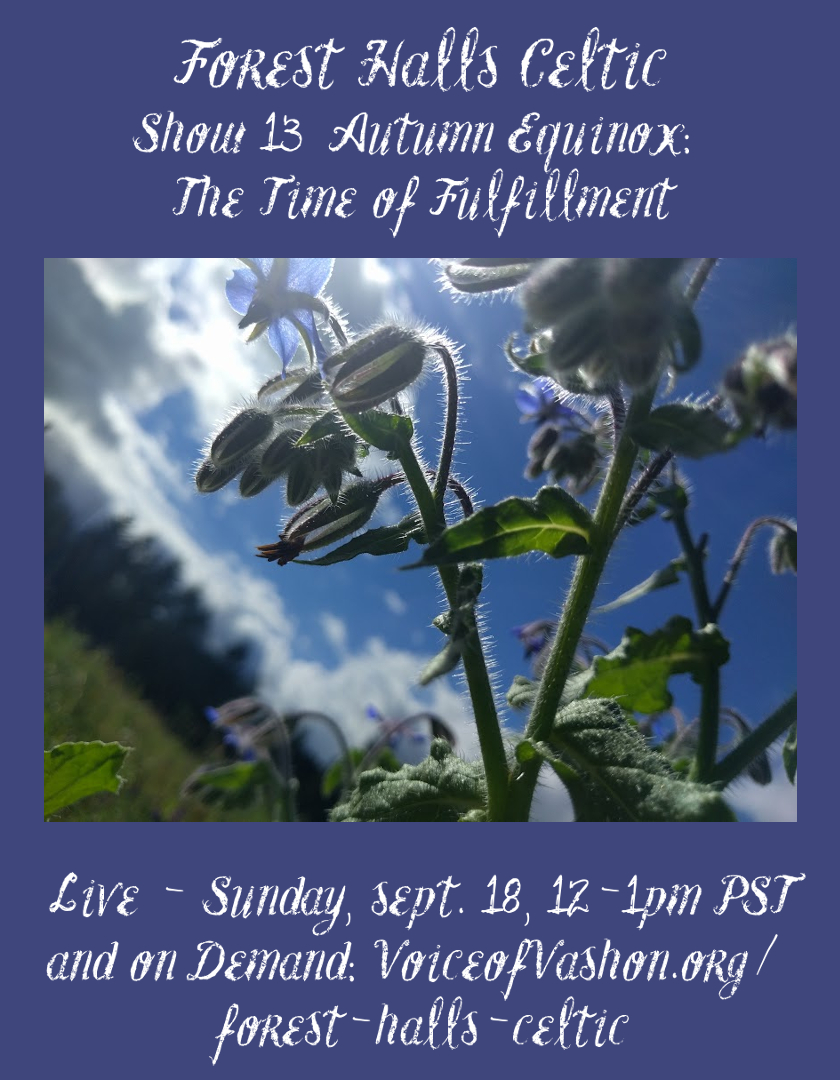 Format: Track Title – artist (CD Title)
We begin our adventure with a couple of early Irish poems.
Poem – Irish, ninth century
Bees of small strength carry the flower-harvest with their feet;
the cattle bring to the mountain a rich-pouring abundance

Poem – Irish, eleventh century
This one begins:
A good reason for staying is autumn,
there is work then for everyone before the very short days …
"Equinox" – Davy Spillane (Shadow Hunter)
An Irish musician, songwriter and a player of uilleann pipes and low whistle, who first came to my attention by way of his solo playing in Riverdance.
"Siún Ní Dhuibhir" – Relativity (Celtic Odyssey)
Relativity was a Scots-Irish quartet formed in 1985 consisting of two Scottish brothers and an Irish brother and sister. The four members of the band were brothers Johnny Cunningham (fiddle) and Phil Cunningham (accordion, keyboard, whistle, bodhran) of the Scottish band Silly Wizard, and Irish sister and brother Tríona Ní Dhomhnaill (vocals, clavinet) and Mícheál Ó Domhnaill (vocals, guitar, keyboard) of the Bothy Band.
A lad pines over a lass, and in the song, it sounds like she's rejected him and his heart is broken, however, she says …
Tell him from me
For certain I won't marry him
For I heard that he wanted
Me with a dowry
Since I don't have wealth
Or much of a fortune
Let him have whoever he wishes
And I'll be about my own business

"The Rosses Highlands"" – Altan (Harvest Storm)
A lively song for autumn from this beloved Irish traditional band.
"The Banks Of Claudy" – Mary Dillon (North)
From her website:
"Formerly the lead singer in well-known 90s folk band Déanta, Mary has had a long absence from the music scene, but returns with a renewed energy after 15 years to release an acoustic album of Irish folk songs old and new.
Mary shares the pure and haunting vocal tone associated with her younger sister Cara Dillon, one of the biggest names on the UK and international folk scene. North will showcase the unique quality and maturity of Mary's voice through a diverse collection of folk songs from the Ulster singing tradition."

"Hill of Thieves" – Cara Dillon (Hill of Thieves)
From Wikipedia:
The song "Hill of Thieves" was voted by BBC listeners as one of the "Top 10" original songs to come out of Northern Ireland. She is the sister of Mary Dillon, formerly of Déanta. Dillon continues in 2012 to work with her husband Sam Lakeman who backs her on piano and guitar.
"Coinleach Glas an Fhomhair" – Clannad (Magical Ring)
(The Green Stubble-Field of Autumn)
Another "pining" song.
On the green stubble-fields of autumn
I saw you, my sweetheart
Nice were your feet in shoes
And wonderful your nimble gait
Your hair the color of roses
And your ringlets tightly plaited ….

Alas that we're not married
Or on board ship sailing away
What I heard on Sunday
As conversation among the women
That she was going to be married
To a young man from the place.
Sweetheart take my advice
And this Autumn stay as you are
And don't tell anyone, my love,
That you are my love.

"Apple Tree" – Flora MacNeil (Craobh Nan Ubhal)
A lovely blessing song for Apple!
Oh apple tree
Apple tree, branch of the apple tree
Oh apple tree
Know the tree that is mine
The tallest with the sweetest apples
Its trunk strikes downwards, its top is bending
Apple tree, may God be with you
May the east and the west be with you
May every sun and moon be with you
May every element be with you
From Wikipedia:
MacNeil was born in 1928 on the island of Barra, one of Gaelic song's most important strongholds. There were singers on either side of her family, but this was a time when the menfolk were often away at sea for long periods, leaving the women to raise the children and tend the croft – singing all the while, to assuage their labours – and most of MacNeil's repertoire was passed on from her mother, Ann Gillies.
A quote:
"Traditional songs tended to run in families and I was fortunate that my mother and her family had a great love for the poetry and the music of the old songs. It was natural for them to sing, whatever they were doing at the time or whatever mood they were in. My aunt Mary, in particular, was always ready, at any time I called on her, to drop whatever she was doing, to discuss a song with me, and perhaps, in this way, long forgotten verses would be recollected. So I learned a great many songs at an early age without any conscious effort. As is to be expected on a small island, so many songs deal with the sea, but, of course, many of them may not originally be Barra songs. Nevertheless the old songs were preserved more in the southernmost islands of Barra and South Uist possibly because the Reformed Church tended to discourage music elsewhere."
"Nighean Donn A' Chuailein Riomhaich" – Alasdair Fraser & Paul Machlis (Skyedance) [Brown Haired Girl With Lovely Tresses]
From the Patrick McDonald's A Collection of Highland Vocal Airs, 1784 arranged and performed on fiddle and keyboard.
Molly's Revenge- Bart's Rant (Aged 10 Years)
Molly's Revenge is a dynamic, acoustic west coast Celtic band of bagpipes, whistle, and fiddle. Great fun! They are performing a house concert in Gig Harbor. Here's the info:
*WHEN:* Sunday, October 23rd at 7:00 pm in Gig Harbor
Contact: HarborHouseConcerts  *at* gmail.com
Bring your instrument(s), voice, and/or dancing feet and join us in an informal post-concert Scottish/Irish session.

"Buain A'Choirce" – Sileas (Playing on Light)
Patsy Seddon on lead vocals, and electro harp. Mary MacMaster on wire-strung harp. Another song of longing:
One day I was reaping oats
I made a cut which was not easy
I sat at the top of the field
Trying to see someone like you
Trying to see someone like you
A brown-haired man with a fair face ….

Oh little seagull who swims the straights
Take my greeting to my love
"Bridget Cruise" – Verlene Schermer (Wishing You Well)
A Turlough O'Carolan tune played on a double strung harp!
Verlene Schermer is a hospital musician at Stanford University and El Camino Hospitals in California's San Francisco Bay Area. This piece is a part of her vast repertoire of soothing melodies that she plays on her double-strung Celtic harp for patients, family, and staff. …  In addition to her hospital music, she performs in concert on electric harp and cross-strung chromatic harp, accompanying her versatile, expressive voice either solo or with her band.
"Persephone's Art" – Verlene Schermer (Persephone's Art)
A song composed by Verlene that expresses in a contemporary voice and style the potent ancient Greek myth of Demeter and Persephone, and the turning of the seasons.
"The Scythe Artist" – Gaia Consort (Evolve)
A quintessential harvest song by a Seattle-based pagan band spear-headed by Christopher Bingham and Sue Tinney. Their musical project has transformed and they now perform as the Bone Poets Orchestra.
"Marigold / Harvest Home" – Steeleye Span (Sails of Silver)
A wonderful piece of music honoring the harvest and English country life.