My "Blackberry Bramble" illustration is now complete. Yes, the melody notated is playable, one that Blackberry shared when I became entangled in this mischievous, merry, and medicinally and nutritionally potent plant! Blackberries are high in flavanoids, notably anthocyanins, which are high in antioxidants and help lower cholesterol and reduce inflammation.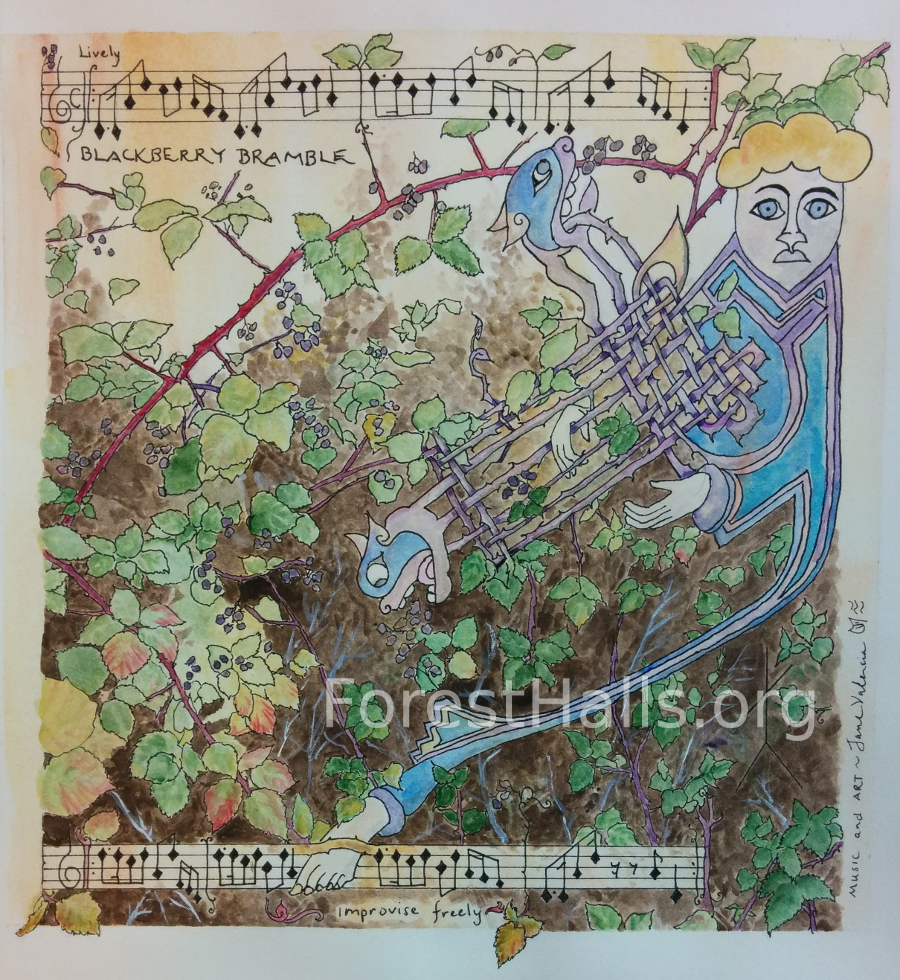 One of this herb's super-powers is Astringency, the ability to tonify and tighten tissues, thus reducing or stopping unwanted release of fluids. The leaf as a poultice (don't include the prickles/"thorns"!) or a very strong tea can help stop bleeding, and is helpful as a wash in any weepy skin condition.  Decoction of the roots can help slow diarrhea when that function has ceased to be useful to one's body (such as clearing pathogens and allergens).
This is just a very short glimpse of the power of Blackberry. Of course much of Blackerry's magic are this plant's gifts of delicious berries, which reignite our wild child nature, leading us into adventure and feasting amidst the beauty and bounty of summer! Next time you're involved with Blackberry (such as cutting back the brambles or attemping to remove the whole plant), I encourage you to take a moment to appreciate this plant, to consider ways you've enjoyed Blackberry.
Consider its ways of growing and thriving. What can we learn from Blackberry's ways? What benefits from Blackberry's presence (birds, insects, companion plants? Who do you notice?). What does Blackberry tell us about the land and ecology in which it grows? Blackberries can be deemed and experienced as invasive, but what is that expression telling us about the land and our human involvement with it? How might we listen, observe, mindfully work with the soil and the plants to restore a balance? In our society most of us don't know beneficial stewardship practices, so take restoration slowly, mindfully — starting from a place of respect for all life, for all of nature, and for us humans as nature, interwoven.