Attention, Folks of  the Puget Sound region,
Sightings are confirmed. Forests filled with leaves of tales are springing up on the island, in downtown Seattle, and in Tacoma. Teapots are running wild in most neighborhoods, and foxes seem to be everywhere.
Please report if you have spotted magic where you are. Signs of magic include: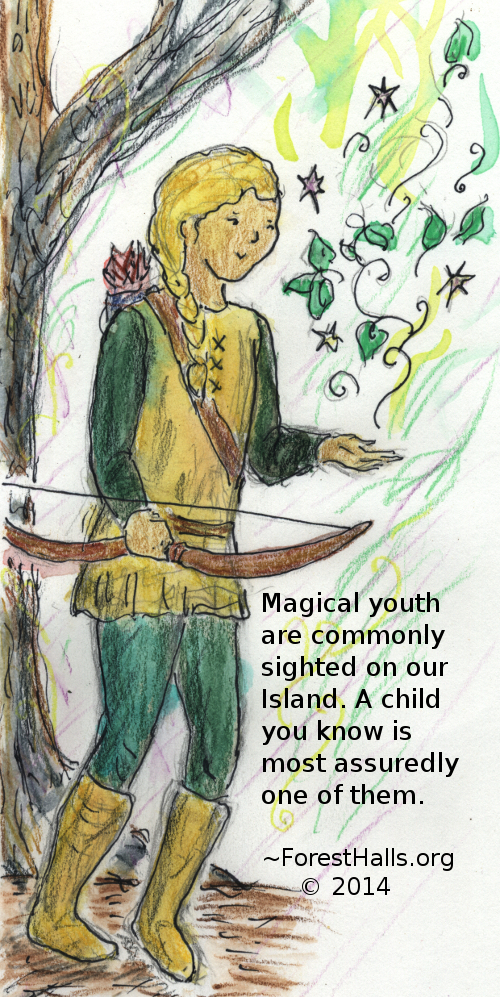 Blackberries, ripe. Kids delighting in them. Those who are kids at heart are doing so as well (such as you?)
A fire under the stars. Maybe s'mores on sticks. Certainly stories and maybe silly songs offered by those circling the fire. ALERT: individuals around summer campfires are very likely secretly members of the Animal Force superhero team, or, if not, at least likely possess mysterious qualities of the natural world within their souls and bodies. Might you be one of these wild and wondrous people?
If you have witnessed magical sign of these or any other kind, we at Forest Halls urge you to report your sightings at the following two events:
Friday, August 1. 7-8:15PM. Jane Valencia will perform harp, song, and (very short!) magical tales at the Vashon Book Shop for the First Friday Gallery Cruise. Drop by for  fun tales and beautiful tunes, and share your own tales of mystery & magic. This is event is free!

Saturday, August 2. 10am-12:30. Jane and her wee Scottish harp will be at the Vashon Writers Booth at the Vashon Island Farmers Market, where you can peer into any number of alternate worlds by way of books by island writers.
Jane's own book, Because Of The Red Fox, will be attending both events. Find out what the fox really says!
Can't attend either event? Report your magic here on our FoxTales Blog.
Thank you for including enchantment in your awareness!
cheers,
Jane Valencia
Island Magic Alert Squad, Chief Forest Halls