My sit spot — a place outside that I return to again and again, and which I know as a dear friend — has become a secret nook indeed. With the passing of the years, the sapling Red Alder and Birch have grown to be tree "teenagers". Canadian Thistle declares that "none shall pass" to the place where I sit. Red Elder dangles her ripe tiny super-tart berries.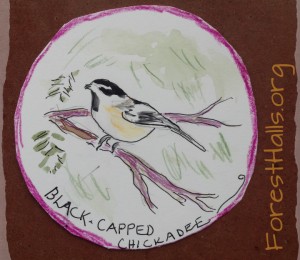 Hidden away, I listen to the birds for awhile: Cheery-up, cheeri-lu — American Robin to the southwest, perhaps in one of the Doug firs across the meadow. See me, pretty pretty me! — White-Crowned Sparrow. to my west. And so on. Soon I turn to listening to recordings of my recent practice session with the awesome Erin Durrett.
Erin is Music Director at the Episcopal Church of the Holy Spirit on our island. She is also iamazingly knowledgeable about medieval and Renaissance music, and she is great at improvising. Erin and I have put together some beautiful music for the Solstice Labyrinth Walk taking place Friday evening, from 7-9PM at the Episcopal Church (more info below). I'm intoxicated by the music we're playing and singing: a medieval English song "Bryd one brere" ("Bird on a Briar"), as well as other medieval songs that range from France to Spain. These songs in their older languages are so beautiful and restful — perfect for a labyrinth walk.
As I listen to the Cantiga de Amigo, Ondas, I suddenly become aware that the birds around me are in full, varied melodic song. I hear the melismatic phrasing of the lyrics, and as I listen to the birds and their own wandering melodies, I realize that how much medieval music — especially chant and other sacred music — are like weaves of bird song.
And why not? Surely the European composers of many centuries past spent much time outdoors. And surely birds were regarded, as they are cross-culturally as messengers of the Divine, creatures who sing in celebration of Creation.
At that moment, a hummingbird zips over to Red Elder, perches for a whole two minutes on a stem. Then flies over to check out the berries. Even the movement of birds is music.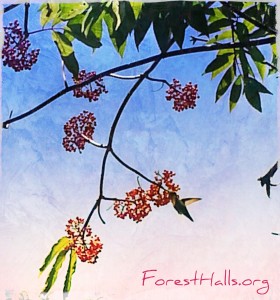 Next time you're outside — especially at this time of the Summer Solstice — take a few minutes to listen to the symphony of song and other nature sounds (and no doubt many human-made as well!) moving like water all around you. This is a great time to listen to the celebration of the birds, and to at the same time celebrate your own shining and that of your loved ones on this good earth — here at the full, long sun time of year.
Please share your bird and nature song tales in the comment box below!

Are you on the Island? Please join me if you can at the following events!
Solstice Labyrinth Walk
The Labyrinth at the Church of the Holy Spirit will be open to all who would like to come and enjoy a meditative walk to celebrate the summer solstice, June 19th between 7 and 9pm. There will be space on the lawn for meditation and quiet music of harp, flutes and singing bowls to infuse the garden with peaceful sound. The walking of the labyrinth is a sacred tradition that is thousands of years old and comes from many different areas of the world. It's a practice that has become a way for people of all faiths or from no faith tradition to walk in contemplation of healing, gratitude and peace.
The Church of the Holy Spirit is north of town on Vashon Highway just south of the Vashon Community Care Center where you see the big bell tower. This event is free and all are welcome. For information call 206-567-4488.
Sun Circle and Gratitude Poem Making – for families
Saturday, June 20, 2PM. This event takes place at the annual Solstice Celebration hosted by the Women's Red Way Lodge. I'll be leading a fun kid-focused (but all are welcome!) Sun Circle that honors the longest day. We will then head out onto the land to collect some "gratitude" to create a community gratitude poem. Go here to watch a special Solstice Invitation video about the event and to find out where to get more information (such as the location of the event).