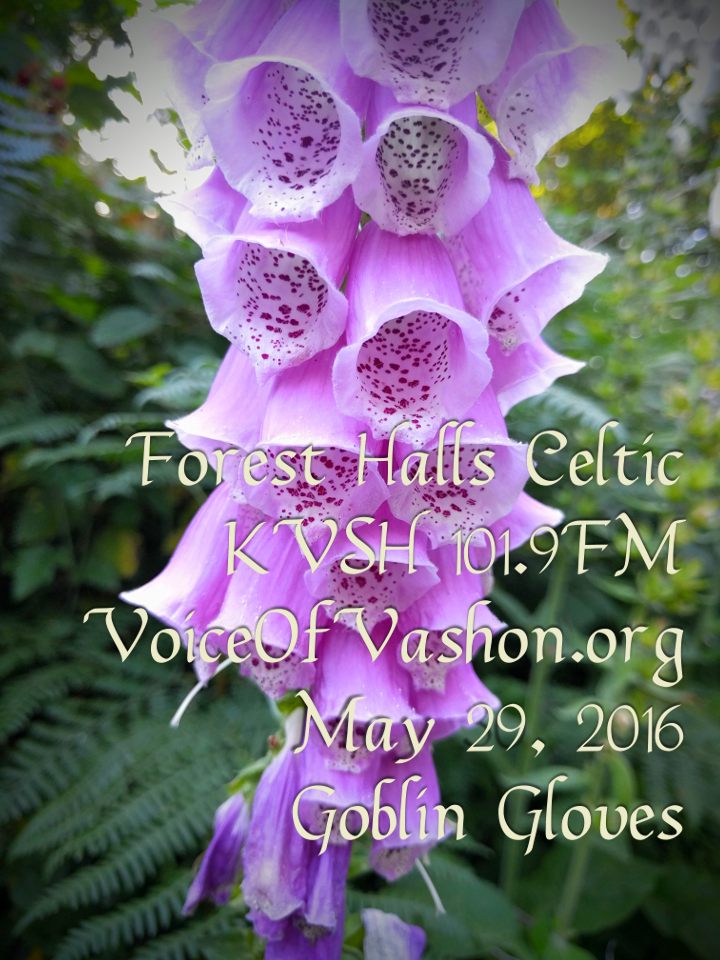 In this episode we discovered the faery lore of the plant, Foxglove, through story and music, enjoyed some contemporary treatments of very old tunes and songs, and more.
Catch the latest Forest Halls Celtic episode on demand here.
01:39 Alan Stivell / Brian Boru
07:02 Owain Phyfe / Ja Nus Hons Pris
11:25 The Chieftains / I Know My Love (with The Corrs)
16:55 The Standing Stones and Debra Knodel / Oran Sniomh (Spinning Song)
20:39 Cynthia Cathcart / Mist Covered Mountains
23:06 Laura Risk, Fiddle / Lord Moira
31:04 Seamus Byrne / Track 2
31:55 Mara Freeman / The Faery Lore of Fox Gloves
34:08 / Story: Goblin Gloves by Allison Cox
37:00 Jeff Victor / The Widow of Loch Lemond
39:53 Jeff Victor / 7th Child of the 7th Child
47:14 Distant Oaks / Tobar gach Grais/An Drochaid Chliuiteach
51:49 Julie Fowlis / Danns' a Luideagan Odhar
54:37 Altan / Jimmy Lyon's/ The Teelin/ The Red Crow/ The Broken Bridge
Format: Track Title – artist (CD Title)
"Brian Boru" – Alan Stivell (Celtic Circle 2 – Various Artists) 
Brian Boru (full name Brian Bóruma mac Cennétig) was an Irish king who ended the domination of the High Kingship of Ireland by the Uí Néill dynasty, becoming the High King of Ireland himself. Alan Stivell is a Celtic musician from Britanny, best known in the folk harp world for his wire-strung harp playing on his classic album, Renaissance of the Celtic Harp. On this piece he plays electro-harp. He composed the words to the "Brian Boru" melody, and sings here in (I believe) Irish Gaelic and Breton.
"Ja Nus Hon Pris" – Owain Phyfe (Poets, Bards, and Singers of Songs)
A beautiful song written and sung in Langue d'oil – one of the two principal groups of dialects spoken in medieval France. It was composed by the English King, Richard Coeur de Lion, and with a lovely treatment here by the late Owain Phyfe.
Extreme trivia: Back in the early 90's I played this song as a harp solo in the Portland, OR-based early music ensemble Musique Ancienne, and also recorded it on Deb's & my privately-released first album, Spooky Tree.
"I Know My Love" – The Chieftains with The Corrs (Tears of Stone)
The Chieftains are a traditional Irish band formed in Dublin in November 1962. Some music experts have credited The Chieftains with bringing traditional Irish music to a worldwide audience, so much so that the Irish government awarded them the honorary title of 'Ireland's Musical Ambassadors' in 1989. In 2012, they celebrated their 50th anniversary with the release of their most recent record Voice of Ages. If you're tracking harps, yes – Derek Bell is playing harp here!
This was one of the Chieftains' collaborative albums.
The Corrs are an Irish band that combine pop rock with traditional Irish themes within their music. The group consists of the Corr siblings, Andrea (lead vocals, tin whistle); Sharon (violin, vocals); Caroline (drums, percussion, piano, bodhrán,vocals) and Jim (guitar, piano, keyboards, vocals).
"Oran Sniomh (Spinning Song)" – The Standing Stones and Debra Knodel (Give Fleece a Chance)
The Standing Stones are Michael Robinson and Vicki Parrish. This San Francisco Bay Area based duo performs traditional music and song from Scotland and Ireland, and Canada and Australia where Scottish and Irish music took root during the Gaelic diaspora of the 19th century, as well as a certain amount of early music, and music from the other Celtic lands.
They write:
"While others may try to take traditional music into the future, our goal is to take it into the past. We try to join our research on historical performance styles to the living tradition, so that our music can be both exciting and true to its roots. But the most important thing is to enjoy ourselves and to share this beautiful musical heritage with others."
Debra Knodel is a northern California harper who is doing some pretty cool things on harp. If you are listening in the Bay Area, contact me for information on a solo concert she'll be performing in Fall. I wish I could travel down for that!
More trivia: Deb, Vicki, and I performed as a harp trio called Trillium way back in my first year or so of harp playing. We played at the Northern California Renaissance Faire.
"Mist Covered Mountains" – Cynthia Cathcart (Alchemy of a Rose)
Cynthia writes a regular column for the Folk Harp Journal, "Ringing Strings" which is devoted to the wire-strung harp. And is internationally known as a proponent of this instrument. I must have been thinking about my Portland, Oregon days when I put this play list together, because I really got to know this Scottish tune "Mist-Covered Mountains" back then, by way of harp lessons with wire-strung harper Janet Naylor in Eugene.
"Lord Moira – The Merry Making" – Laura Risk (The Merry Making)
"Laura Risk is an California-born violinist. She specializes in performing and teaching the diverse fiddle repertoire of Scotland and Quebec.
[Laura Risk] has that absolutely uncanny knack, not of knowing how much to put into a tune, but rather how little. She wrings every drop of passion, heartache or melancholy from most every note she plays… Just magic."
Green Man Review
A protege of Alasdair Fraser, Laura Risk along with Athena Turgis played on Deb's and my first (publically released) album, Masque. They played on "Waltz of the Little Girls" and "The Shetland Reels." At the time Laura and Athena were teenagers, and musical forces to be reckoned with. Even then, I was impressed by Laura's elegant playing, the crisp, beautiful ornamentation and her rich arrangements.
~~~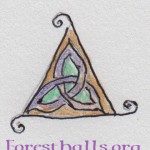 I was inspired by all the beautiful Foxglove blooming these past weeks to put together this segment of lore and story regarding this mesmerizing plant.
Lore: The Faery Lore of Foxgloves by Mara Freeman/Background: 
Mara Freeman is an author and teacher of Western esoteric tradition, specifically the Celtic and British branches, and a storyteller.
By Mara:
"Foxgloves
Faery gloves
Faery caps and bells –
Foxgloves are the Folks' Gloves,
the Good Folk, that is,
and you'd better not forget it if you think to cut them down. …."
Read the full past about foxglove lore here.
"Goblin Gloves" by Allison Cox/Background music: "The Widow of Loch Lemond" – Jeff Victor (Lifescapes: Scottish Moors) /"7th Child of the 7th Child" – Jeff Victor (Lifescapes: Scottish Moors) 
Allison Cox is a storyteller on Vashon Island. She gave me permission to read her story, "Goblin Gloves" today. Allison is so fun to listen to, and so generous of spirit. She is very involved in the Seattle Storyteller's Guild, and recently spear-headed an event in which an epic Irish myth retold by 17 tellers and with a musicians as well. It was fun to be part of that.
As accompaniment to "Goblin Gloves," we have two pieces of Celtic Ambient music by Jeff Victors.
"Tobar Gach Gràis / An Drochaid Chliùiteach" – Distant Oaks (Gach Là Agus Oidhche : Music of Carmina Gadelica')
"Distant Oaks  was a California ensemble specializing in dynamic, historically informed performances of traditional Gaelic and early European music. … In addition to their strong dedication to Gaelic music, language, and culture, as well as authentic traditional and Early Music performance practices, Distant Oaks was also actively engaged in composing new music in older styles. Much historical evidence suggests that the distinctions between indigenous music and courtly music were minimal in earlier times. In the spirit of fine music-making and respect for tradition, Distant Oaks continues to bring a brilliant panoply of music to their audiences."
Distant Oaks is no longer together as a band, its founder, Deborah White, having passed away a number of years ago.
"Jimmy Lyon's/The Teelin/The Red Crow/The Broken Bridge" – Altan (The Red Crow)
A set of tunes from the much-loved traditional Irish band, Altan.
Catch the latest Forest Halls Celtic episode on demand here.
Thank you for joining me in Forest Halls!