Themed Treasures, this episode focuses on a few musical gems and threads in my basket. I love innovative music, I appreciate and enjoy historical and traditional styles, and as for Welsh music — well, my interest in Welsh history, myth, and culture led me into Celtic music in the first place. In prepping this show, I found myself picking out one "shiny and glittery" track, and then thinking: "Well, how about that one too?" or "What about this idea to pair with that?"
Consider this episode a wander through a forest in which we enjoy the earthy smells, scattered leaves, "fruiting" mushroom surprises, and radical bird song, from which we harvest treasures. I invite you to listen in with that same open senses curiosity.
12:02: Janet Harbison – O'Neil's Cavalcade
12:04: Steve Baughman – Coilsfield House
12:06: Shira Kammen – Shetland Set
12:14: 4th c. Welsh Poem and Bardic Triad
12:16: Paul Dooley – Caniad y Gwyn Bibydd
12:21: Cheryl Ann Fulton – Welcome the Bee
12:24: Crasdant – Pibddans Trefynwy
12:29: Gwyneth Glyn – Cofia Fi At
12:34: Pigyn Clust – Merched
12:37: Seamus Byrne – Irish Nature Sounds
12:41: Hannah Thomas and Catrin Meek – Lisa Lan/ Fair Lisa
12:43: Solasta – The Swan Set
12:50: Spookytree (Deb Knodel & Jane Valencia) – Lochaber No More
12:51: Shira Kammen – Chi Mi Na Morbheanna

Your host is bardic harper and storyteller Jane Valencia.
Listen to the latest show on demand.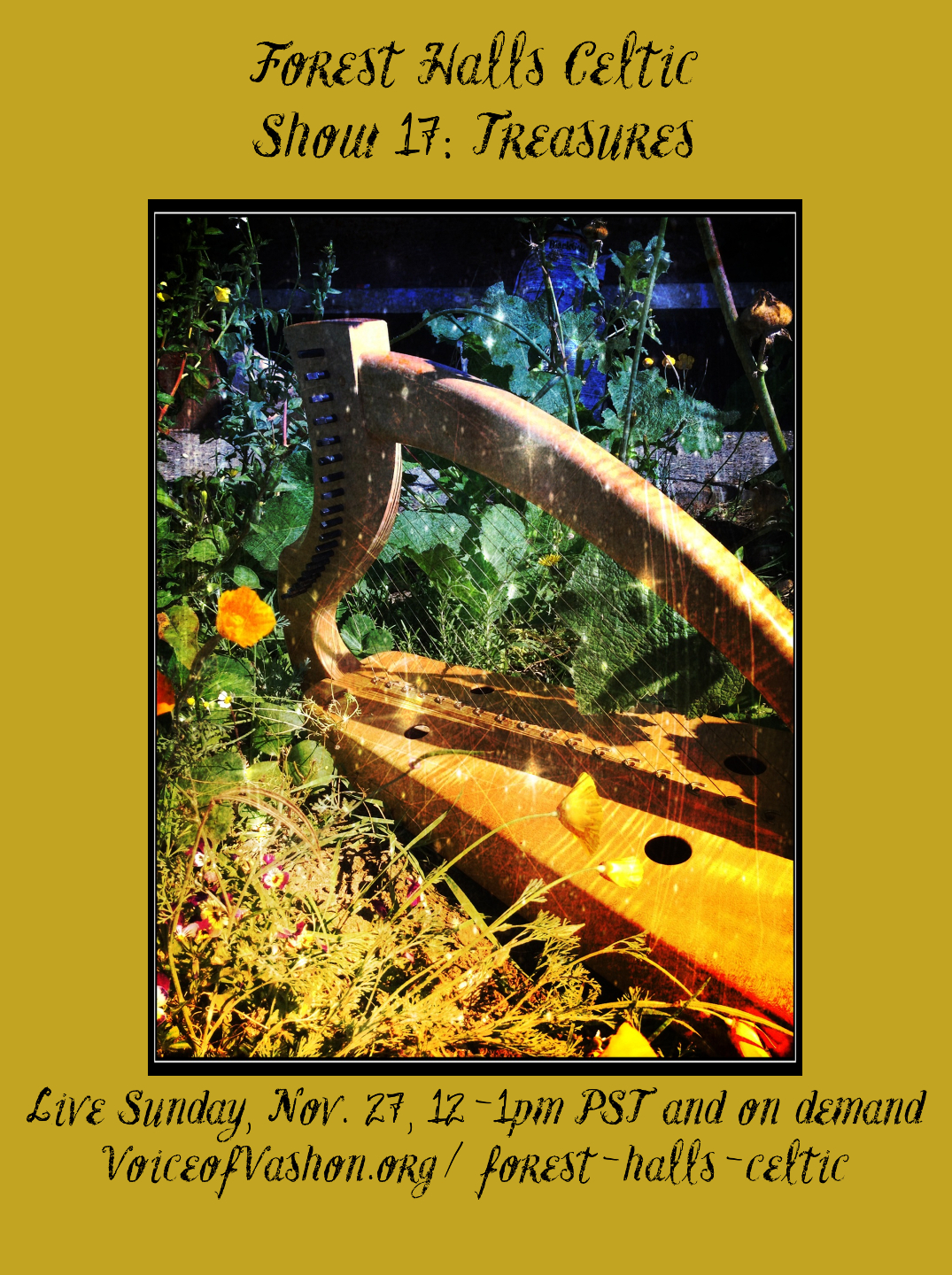 Format: "Track Title" – Artist (CD Title)
"O' Neill's Cavalcade" – Janet Harbison (O'Neill's Harper)
This track is from an album that is Harbison's harp tribute to various generations of the O'Neills, who for hundreds of years the most eminent family in Ulster.
During my first harp lesson back in 1987, my teacher Chris Caswell, pointed me to a few Celtic harpers he felt had vitality and creativity in their playing and arrangements. Janet Harbison was one of them!
Janet Harbison is a multidimensional Irish artist — a harper, composer, arranger, writer, teacher and is the director of the Irish Harp Orchestra.
"Coilsfield House" – Steve Baughman (Farewell to Orkney)
Another elegant performance by my friend San Francisco Celtic guitarist, Steve Baughman. "Coilsfield House" was composed by 18th century Scottish fiddler Nathaniel Gow.
"Shetland Set" – Shira Kammen & Pam Swan (Wild Wood)
Shira Kammen who plays fiddle here is a noted early and traditional instrumentalist and vocalist. Pam Swan is an acclaimed pianist, singer, and percussionist.
I really love Pam's piano accompaniment in this set. Her playing harkens to a traditional style but also leans into more syncopated, modern decoration too.
A fun, innovative set of music! "Spootiskerry" and "Da New Rigged Ship" — the first two in the set are among my favorite Shetland tunes.
"Caniad y Gwyn Bibydd" – Paul Dooley (Music from the Robert ap Huw Manuscript)
From Paul Dooley's website:
The Robert ap Huw Manuscript (British Library Additional MS 14905) contains some 71 pages of Welsh Harp music. This music is part of a repertoire of over 300 pieces, catalogued in several 16th century manuscripts. The known composers of the music have been placed in a period ranging from c.1340 to c.1485. Some of the unattributed pieces may well be older, the titles of many of these have reference to pre-1320, and several pieces have reference to earlier times.

This music, known as Cerdd Dant, the music of string, belongs to the ancient bardic traditions of Wales. …
Paul plays a piece from the ap Huw Manuscript on his wire-strung harp. If you browse Paul's website, you'll find an article by Peter Greenhill supporting the idea that at least some early harps in Wales were metal-strung.
"Welcome the Bee" · Cheryl Ann Fulton (The Airs of Wales)
Cheryl Ann plays here on the magnificent triple harp. A triple harp has three rows of strings, with the two outer rows tuned diatonically and in unison with each other. The middle row is for accidentals. You can read more about the Welsh triple harp here.
"Pibddans Trefynwy" – Crasdant (Dwndwr/The Great Noise)
A quote:
"The group Crasdant consists of Robin Huw Bowen on triple harp, supported by Ar Log fiddler Stephen Rees, guitarist Huw Williams, and Andy McLauchlin on assorted woodwinds. They have fashioned an acoustic blend that shares many of the intricacies found in the Irish 'ascendancy baroque' tradition and, like Ar Log, they often incorporate percussive step-dancing into the mix."
Robin Huw Bowen also has a nice write-up about the Welsh triple harp.
"Cofia Fi At (Remember Me To)" – Gwyneth Glyn (Wyneb Dros Dro)
'Cofia fi at' literally translates into 'Remember me to' which is basically the same as saying 'send my regards to…' Gwyneth is a Welsh poet and singer/songwriter.
Lyrics / Translation:
Remember me to my friends,
Remember me to the fair.
Remember me to the snow that fell when I was three.
Remember me to the fairies and the blackbird.

Remember me, remember me,
Remember me to you. ….

La la la la la la
The winter is longer than the summer.
La la la la la
The summer is older than the winter.
"Merched" – Pigyn Clust (Rough Guide to the Music of Wales)
A folk band from Northwest Wales. Here is a write-up about this track from the CD:
The melody is normally associated with a political song concerning a fallen Welsh military hero, while the words are from a vast corpus of traditional floating verses, which are set to whatever melody the singer chooses. There is a recent tendency within contemporary bands in Wales to juxtapose traditional melodies, rhythms and verses in a startling new way, and this improvisation by Pigyn Clust is based on two Welsh verse traditions, canu penillion and ymryson canu tribabbau. The musical collage is used to great effect in this son, in which the hero is now a young mother.
"Lisa Lân/Fair Lisa" – Catrin Meek & Hannah Thomas (Welsh Music Exchange Youtube channel)
The Welsh Music Exchange is a collaboration between Welsh cellist Hannah Thomas and an array of musicians musicians from different backgrounds to promote the beautiful melodies and tunes originating in Wales.
Here, Hannah teams up with harpist Catrin Meeks to perform this traditional Welsh tune.
Catrin Meeks graduated from the Royal College of Music, London, and is now an MA Student at Royal Academy of Music. Originating from South Wales she is fluent in the Welsh language and won Outstanding Young Musician of the Valleys. In 2015 she went on to win the prestigious Nansi Richards Scholarship. Her previous teacher, Claire Jones is the Former Official Harpist to HRH Prince Charles. Catrin has been privileged to play for The Queen on her diamond jubilee tour and has played for HRH Prince Charles on several occasions. Twitter: @catkinerina
Catrin and Hannah are playing in the London Musical Theatre Orchestra at the Lyceum Theatre London 19th December 'A Christmas Carol' concert 7:30pm.
Hannah Thomas is a London-based cellist and teacher. She is a multifaceted musician who enjoys exploring different musical genres from classical and baroque to folk. She studies cello with Naomi Butterworth at Trinity Laban Conservatoire of Music and Dance, baroque cello with Sue Sheppard, bass viola da gamba with Alison Crumb and has had various coaching on folk cello including Natalie Haas. She performs regularly with the early music group Bellot Ensemble and Trinity Laban baroque music ensembles for the Royal Greenwich Early Music Festival and London Handel Festival. She is a founding member of the exciting up and coming folk trio Solasta with Elisabeth Flett and Jamie Leeming. Twitter: @HannahTCello Facebook: @hannahthomascello
"The Swan Set" – Solasta (Solasta)
Solasta is a folk trio of cellist Hannah Thomas, award-winning fiddler Elisabeth Flett and guitarist Jamie Leeming who unite youthful vitality with training and experience across diverse musical worlds, including jazz, classical and early music, in freshly inventive arrangements of trad-based folk material. Facebook:@solastaband
This is imaginative and energetic music indeed!
Tunes in this set are:
1. Swan LK243 (by harpist Catriona McKay)
2. Tam Lin (Arthur)
3. Catharsis (Cann)
Solasta are performing at the Jamboree in Limehouse London 14th December.
"Chi Mi Na Morbheanna" – Shira Kammen & Pam Swan (Wild Wood)
We finish with Shira and Pam's acappella rendition of this famous song.
From Wikipedia:
"Chì mi na mòrbheanna" is a Scottish song that was written in 1856 by Highlander John Cameron (Iain Camshroin), a native of Ballachulish, and known locally in the Gaelic fashion as Iain Rob and Iain Òg Ruaidh He worked in the slate quarries before moving to Glasgow where he was engaged as a ship's broker. He became the Bard of the Glasgow Ossianic Society and also Bard to Clan Cameron.
This song is often called in English, "The Mist-Covered Mountains of Home"