Many of us who love Celtic music are drawn to something within the music itself that speaks strongly of an ancestral knowing that we recognize or for which we yearn — an expression that is ultimately sourced from a people's intimate and profoundly interwoven relationship with the earth herself.
Our special guest for this episode is Mark Morey – a leader in the work of helping people, groups, and organizations build healthy community through deep connection with nature. Of Irish descent, a musician himself, and as one who is involved with Standing Rock, Mark brings us potent insights regarding regenerative community, the power of music, ancestral longing, and the meaning of these wellsprings for us. Please join us.
12:01: John O'Donohue – The magic of perception
12:04: Alan Stivell – Gaeltacht
12:08: Seamus Byrne – Track 1
12:09: Mark Morey – Interview
12:14: Mark Morey – Come by the Hills
12:19: Mark Morey – Interview
12:21: Knodel and Valencia – Calling of the Cows
12:27: Mark Morey – Interview
12:36: Ffynnon – Hiraeth Am Feirion
12:38: Seamus Byrne
12:40: Mark Morey – Interview
12:51: Andy M. Stewart, Phil Cunningham, Manus Lunny – Treorachadh-I Mourn For the Highlands
Your host is Celtic harper and storyteller Jane Valencia.
Listen to the latest show on demand.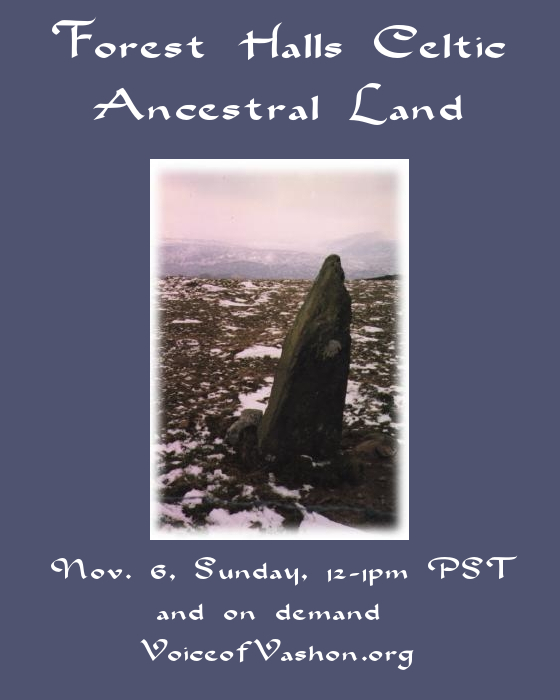 Format: "Track Title" – Artist (CD Title)
"The Magic of Perception" – John O'Donohue (Beauty: the Invisible Embrace)
John O'Donohue was a much beloved Irish poet, author, and philosopher. His writings on Celtic spirituality captured popular imagination. He passed away in 2008 at the age of 52, and many, many people around the world mourn him still. I love this piece, which cheerfully expresses how the land might love us.

"Heman Dubh" – an excerpt from "Gaeltacht" – Alan Stivell (Renaissance of the Celtic Harp)
Here we enjoy Breton harper and composer Alan Stivell on wire-strung harp. "Gaeltacht" is a suite of traditional tunes from the Gaelic speaking lands of Ireland, Scotland, and the Isle of Man, and the piece played here is "Heman Dubh," a Hebridean work song. Alan Stivell's Renaissance of the Celtic Harp, an album from 1972, helped fuel a revival of Celtic folk music, and inspired a generation of people to take up the harp, including myself. Stivell's music in particular also served to ignite the return of Breton music and regionalism to France, restoring the Breton harp to Brittany after its absence since before the French Revolution in 1789.
I'm delighted to feature an interview on today's show with cultural change agent and musician of Irish and Scottish origin, Mark Morey. Mark was on Vashon two weeks ago, and we recorded the interview at that time.
"Interview: Part 1" – Mark Morey
Regenerative culture can be briefly defined as a mutually beneficial and enhancing way of being for individuals, community, and the earth. Rather than operating in a cycle of depletion, regenerative culture nourishes successive levels of diversity, creativity, compassion, and abundance that serves the well-being of humanity and nature alike.
Mark describes his experience with the Maine Fiddle Camp as an example of regenerative community.
"Come by the Hills" – Mark Morey and Friends (Performance at the Maine Fiddle Camp)
Mark and his friends perform a song that he learned from an Irish musician. This song is an invitation to discover for oneself the music and stories held within experiences of the land. It was written by W. Gordon Smith, a Scottish playwright, who set the lyrics to a traditional Irish song.
"Interview: Part 2" – Mark Morey
Music and community. Personal connection to the land and the elements can help restore culture …
"Calling of the Cows" – Knodel and Valencia (Forest)
At a fiddle retreat weekend back in the early '90s, multi-instrumentalist and harp teacher to many of us in the San Francisco South Bay Area at the time, Chris Caswell played his Scottish bagpipes in a misty field. The cows gathered, drawn by the sound. We all listened to the music, cows and humans alike, and maybe the trees too. It seemed that a larger music wove all around us and wove us together.
Deb Knodel and I play here on a pair of large wire-strung harps.
"Interview: Part 3" – Mark Morey
Mark describes gathering songs and stories from experiences with nature, and delves into the power of music to heal and nourish culture.
"Hiraeth am Feirion (Longing for Meirionshire) – Ffynnon (Debatable Lands)
Hiraeth is, I believe, a longing for home and homecoming in the deepest sense: You know you're part of the land, and you know that the land knows you.
Lyrics of this song in English:
There is a mountain in the sea which hides Meirioneth
I had sight of it once only before it broke my heart
Wind from the sea and sun from the mountain
Grey rocks instead of trees
And gulls instead of people

I will make a boat of the oak of love
And its mast, the wood of experience
And put longing in its sail to make it go

Wave to wave to my own land
"Interview: Part 4" – Mark Morey
Mark shares about Standing Rock, and ties in what is happening there with all we have spoken about in this show. Mark is committed to helping the Water Protectors at Standing Rock. To find out more about how you too can support the Water Protectors, connect with Mark Morey on his Facebook page, or check out the Standing Rock Action Network, also on Facebook, which is an initiative which he and another have spear-headed.
"Treorachadh-I Mourn For the Highlands" – Andy M. Stewart, Phil Cunningham, Manus Lunny (Fire in the Glen)