***The Giveaway is over. Congratulations to Stacy and Sharene!
We have a Giveaway! Without further ado, here are the details.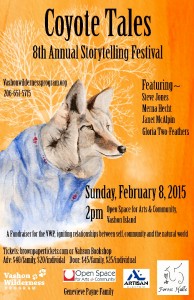 Coyote Tales – the Vashon Wilderness Program's Annual Storytelling Festival is so much fun. Fabulous tellers and a warm, welcoming community within which to enjoy the tales. As an instructor in VWP, I can tell you that storytelling is essential to our mentoring of youth in nature, and helping to deepen their connections with the natural world, each other, and themselves. Storytelling is truly what we call a core routine, and we aim to "catch" our students' stories as often as we offer stories of our own.
The Coyote Tales Storytelling Festival is VWP's only live event fundraiser. VWP aims to never turn any child away due to a family's lack of funds, and to that end, has given over $95,000 in scholarships in its eight year history. Wow!
When: Sunday, Feb. 8, 2PM. Where: At the Open Space for Arts And Community, Vashon, WA. Tickets: Advance – $40/family, $20/individual. Door: $45/family, $25/individual
If you live on the island, do consider joining us at this family friendly event. Forest Halls is a proud sponsor! And do enter our drawing.
For those of you who don't live on the island, you can still enter the Giveaway and be part of story magic fun. I'm giving away two copies of my children's fantasy novel Because Of The Red Fox to you!  Stories (from myth and elsewhere) thread through this tale, as do magical nature ways. Be sure to note in your comments that you are entering the drawing for the book.
 Want a Chance to win a StoryFest family ticket or a copy of my book? Here's how!
Read my blog post about how We (humans) are a Story People. Comment here about how you share story in your family or a special experience of when your family shared story (in any form!).
For more chances to win, leave a separate comment each time you do the following. Note in at least one comment whether you are a Vashon Islander or not:
check out the description of Coyote Mentoring on the  Vashon Wilderness Program web site and tell me what you think is most compelling to you about Coyote Mentoring.
blog about a Coyote Mentoring idea or about storytelling (please leave a reference link in the comment)
Sign up for the Vashon Wilderness Program's newsletter and receive their free booklet "10 Awesome Practices to Make Nature a Natural Part of Your Family Life."

Tell me about one of the "10 Awesome Practices" you're going to introduce to your family

"Like" the Vashon Wilderness Program on Facebook
On Wed. Feb. 4, at 8:30am PST, Voice Of Vashon/KVSH 101.9 FM will interview VWP's Executive Director, Stacey Hinden. Listen to this live streaming interview with Stacey about story, nature connection and children, and more, and share something you learned or found exciting from the interview in your comment.
And here are even more chances to win!
Sign up for Forest Hall's ezine, Acorn To Oak. Are you already on my mailing list? Then please share something you enjoy about my ezine (newest edition will be out by Tues. 2/3) or blog.

Read my blog post Magical Doors, about reading aloud to children, which is another kind of story enchantment. Share here about a book you enjoyed as a kid or that you've enjoyed reading to kids
Follow Forest Halls on Twitter and tweet this Giveaway with hashtags #foresthalls #familymagicgiveaway . (Please list your Twitter ID in the comment so we can find you)
Post about this Giveaway on your Facebook page
Sign ups for the Giveaway end at 11:59PM PST on Wednesday, Feb. 4, 2015. I'll draw the winners on Thursday, Feb. 5. There will be only one prize per family. Good luck, everyone, and thanks for entering!
***Note about the Comments capsha: Just in case it's not clear from the instructions below, you need to click on the little images until they turn right side up.